This post may contain affiliate links, please see our privacy policy for details.
Sizzling temperatures and vibrant poolside vibes, yes, we're talking about Sin City in the summer! When the mercury rises, there's no better place to beat the heat than at a fabulous Vegas pool party. But, don't think it's just about dipping your toes and sipping on cocktails - it's a runway of the hottest styles, a playground of fashion. Las Vegas pool party dress code has its own glamour quotient that can seem tricky to nail. But don't sweat, we've got you covered (or, tastefully uncovered).
In this post, we're going to delve into the world of chic poolside fashion and share ten exclusive, drool-worthy outfit ideas that will make you stand out from the crowd. So, grab your sunscreen, we're diving in!
Our summer sartorial journey began with our popular post about Summer Las Vegas Outfits. We shared some scintillating ensembles that were all about making the most of your Vegas vacation. Many of you asked about what to wear to a Vegas pool party. And we listened! Today, we're focusing on just that. Let's transition those summer looks into something that's perfect for the pool.
We've also previously explored the dazzling world of the casino glitz and nightclub glam with our post about what to wear in Vegas for every event. While a pool party is a sun-soaked affair, many times, it's just the beginning of a long night of festivities. So, how do you seamlessly transition from the pool to a club? Or, how do you carry the dress pool party Vegas style into the twilight hours? Again, we've got you covered.
So, whether you're a Vegas first-timer or a seasoned party-goer, stay tuned as we unpack our favorite Las Vegas pool party outfits to ensure you not only beat the heat but do it in style!
Why Your Attire Matters at a Vegas Pool Party
Now, some of you might be wondering, "It's just a pool party, why all the fuss about what to wear?" Ah, dear reader, a Vegas pool party is far from "just" anything. It's an exhibition, a statement, a living, breathing, splashing spectacle of style. It's where the chic meets the heat, with a dash of Las Vegas' own brand of razzle-dazzle. Dressing right for these aquatic soirees is essential.
Your attire isn't just about looking good (though that's a definite plus!). It's about feeling fabulous, owning your style, and fitting into the high-energy atmosphere of a Vegas pool party. The perfect Vegas pool party outfits can make you feel invincible, ready to make a splash, literally and figuratively. It's a melting pot of fashion where your attire speaks volumes about your personality, even before you introduce yourself.
Remember, in the city of sin, every pool party is a potential headline, a chance to redefine your style, or to cement your fashion status. The Vegas pool party attire you choose is more than just fabric - it's your ticket to an unforgettable party experience. So, let's dive deep into the pool of pool party fashion and surface with looks that are guaranteed to make waves. Stay tuned!
Vegas Pool Party Outfits
Let's dive in and explore our carefully curated Vegas pool party outfits, designed to ensure you make a fashion splash, no matter the occasion.
Boho Beach Outfit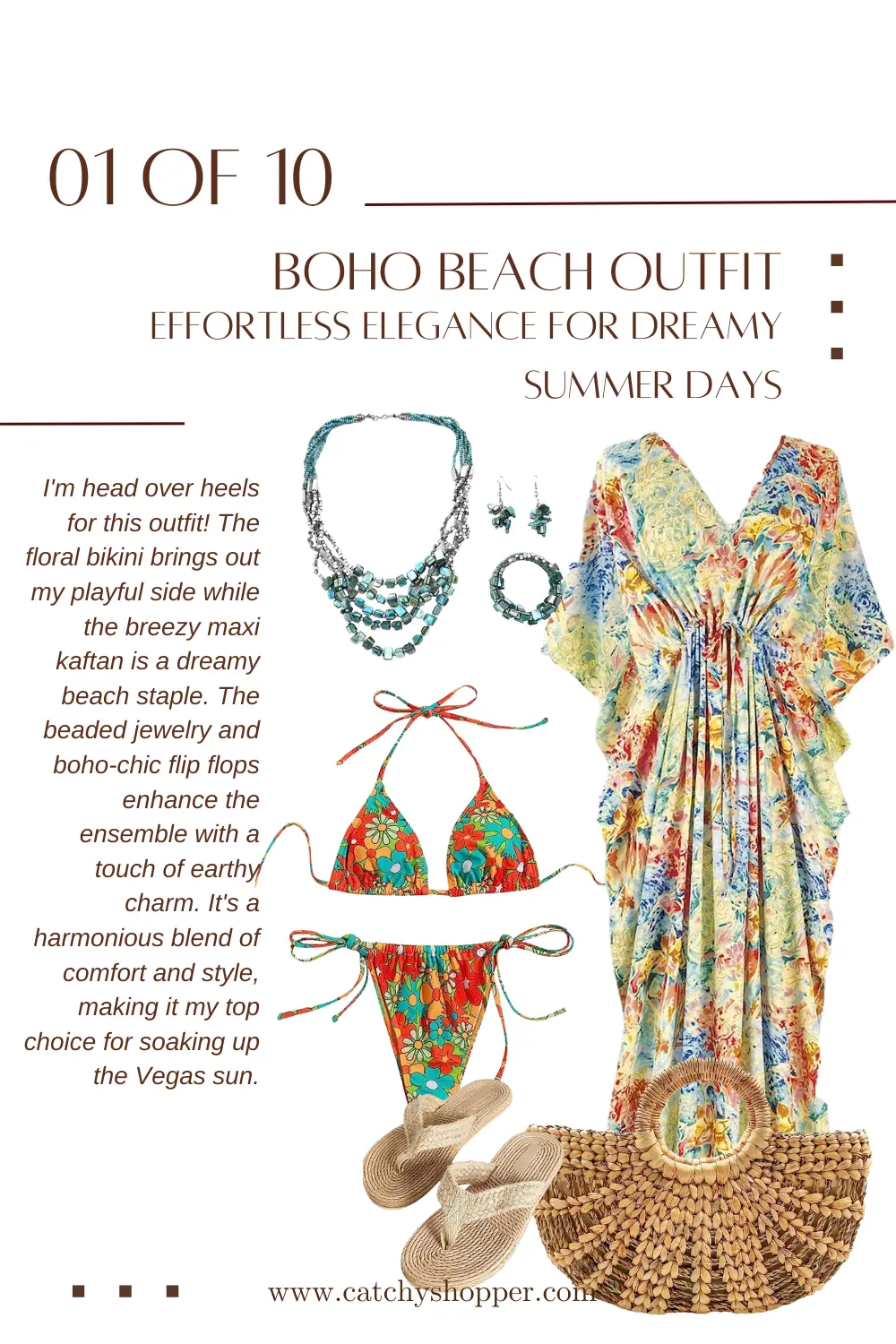 Let's talk about transforming you into a boho beach goddess for your next Las Vegas pool party, shall we? Just picture this: the Las Vegas sun dancing on your skin while you are relaxing in a vibrant floral bikini, harmoniously teamed with a breezy maxi kaftan, the epitome of boho-chic. Now, let's not forget those cute accessories. Tie the look together with beaded jewelry and flip-flops, making footprints of style across the beach clubs of Vegas. Your straw tote bag will hold all your essentials, transforming you into an enchanting vision of effortless trendiness.
Chic Minimalist Outfit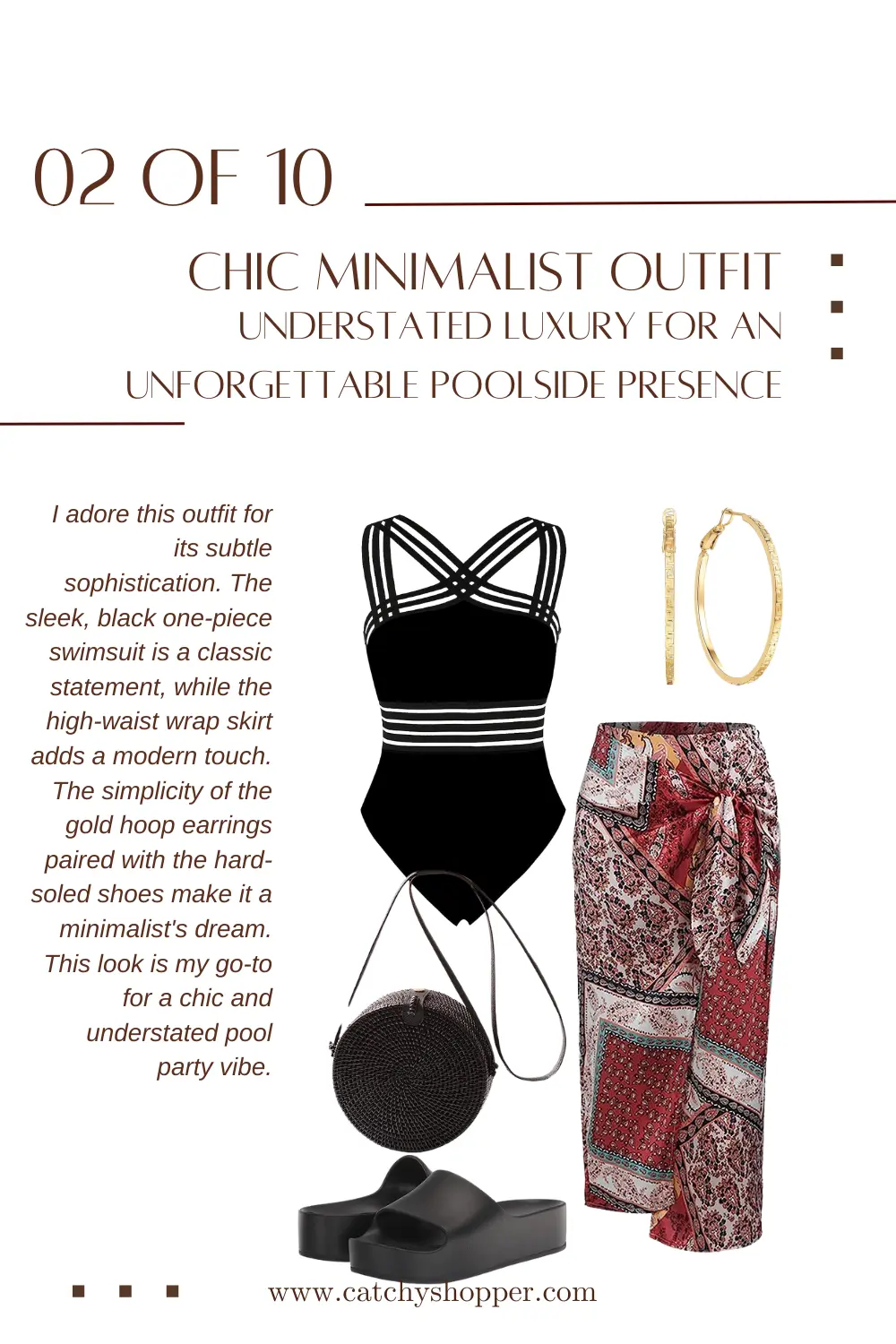 This ensemble features a sleek, black one-piece swimsuit, stylishly paired with a high waist wrap skirt. The clean lines and refined elegance of this pool party attire are heightened with a trendy pair of hard-soled shoes and statement gold hoop earrings. Choose a simple, yet fashionable bikini cover-up and mini crossbag for moments spent lounging by the pool. This look is your passport to sophistication at any Vegas day club or high-energy pool party.
Retro Glam Outfit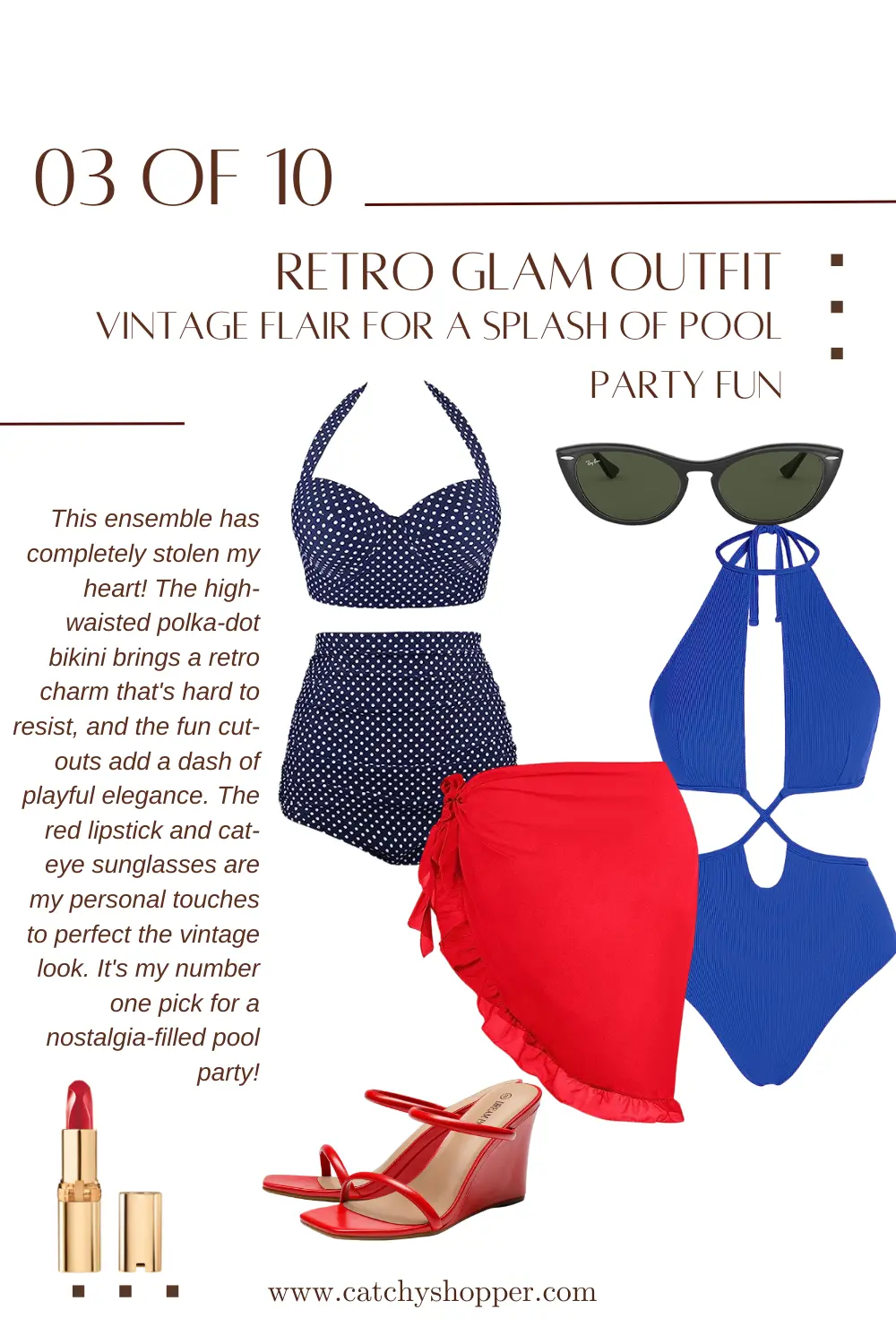 Now, for a trip down memory lane, check out the Retro Glam outfit. Grab a high-waisted, polka-dot bikini or a one-piece with fun cut-outs for a playful twist on your beach look. Finish the look with a flowy cover-up, classic red lipstick, cat-eye sunglasses, and open-toe wedges. Now, you're all set to soak in the nostalgia at the Encore Beach Club.
Bold and Bright Outfit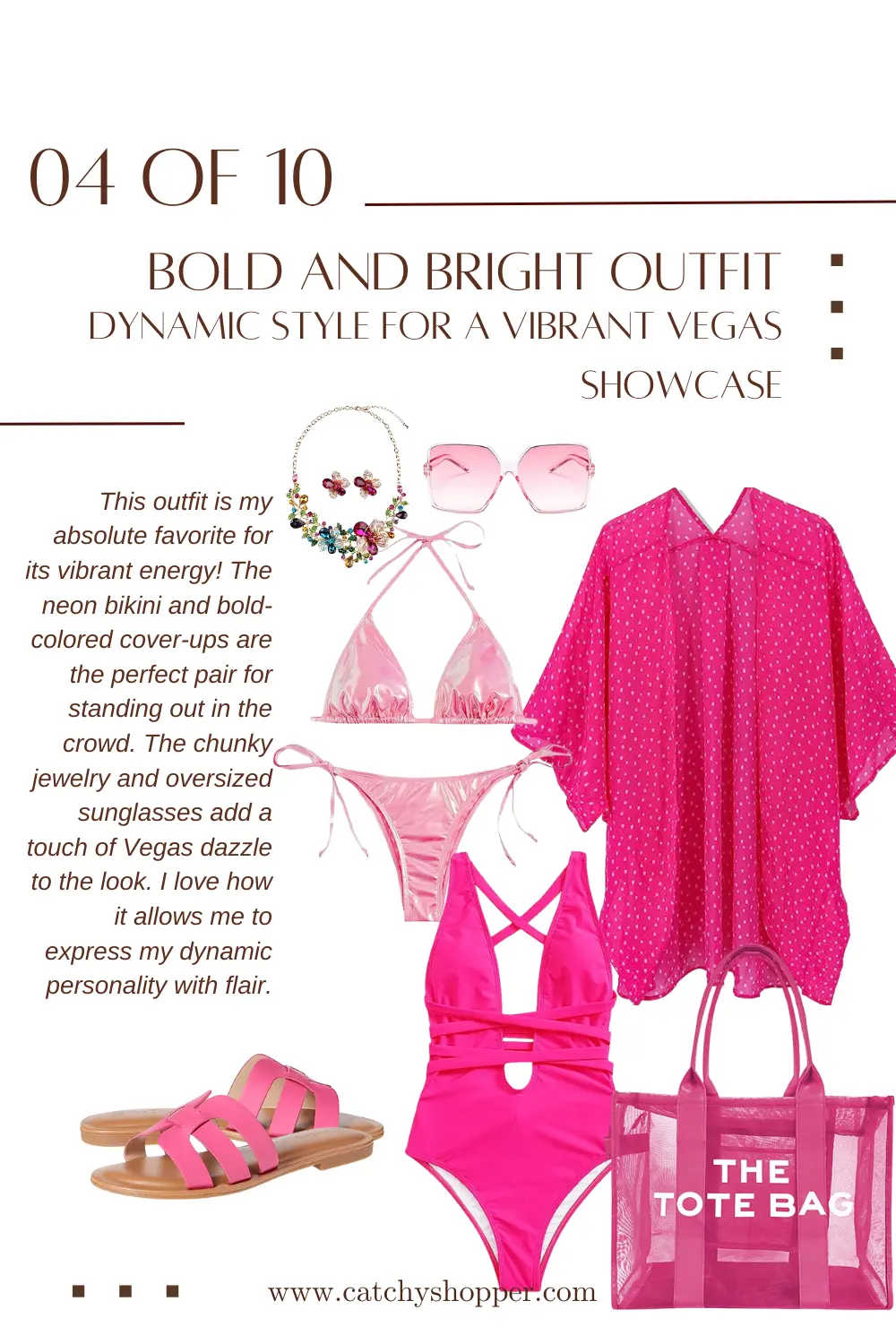 For a pop of color, go Bold and Bright. A stylish, neon-colored bikini or one-piece swimsuit coupled with translucent swimwear and bold-colored cover-ups are your passport to stand out. Accessorize with chunky, colorful jewelry, and oversized sunglasses to mirror the city's vibrant energy. Complete this look with matching sandals and a tote bag. Remember, bold colors and innovative cut-outs are your secret ingredients to own this look.
Luxurious Lounger Outfit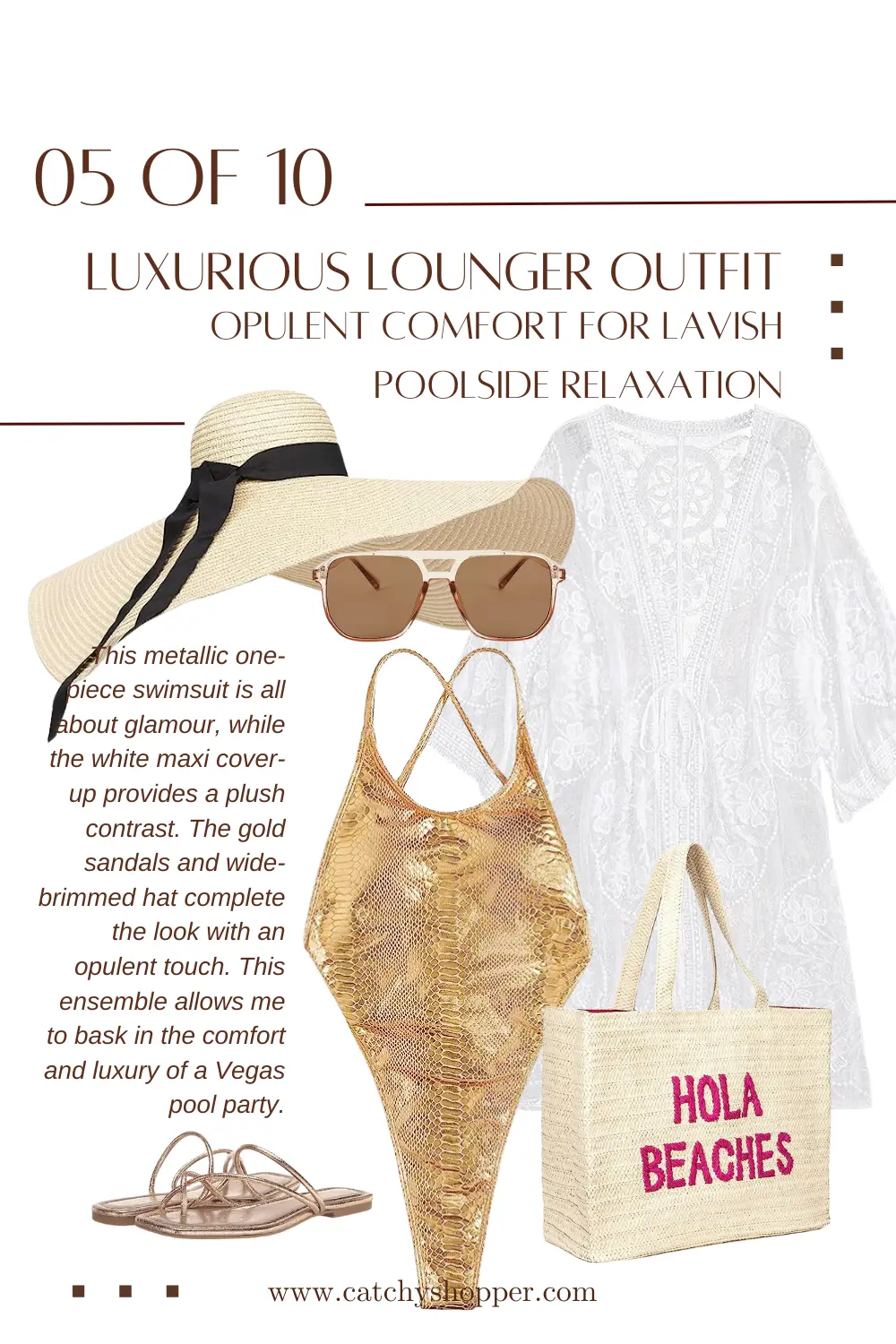 If you're looking to show off your luxe side, the Luxurious Lounger is your look. Slide into a metallic one-piece swimsuit, and pair it with a breezy, white maxi cover-up. Gold sandals, a wide-brimmed hat, oversized sunglasses, and a designer beach bag are your staples, creating a picture of ultimate lavishness. This ensemble is your key to enjoying the best pool parties Vegas has on offer.
Sporty Chic Outfit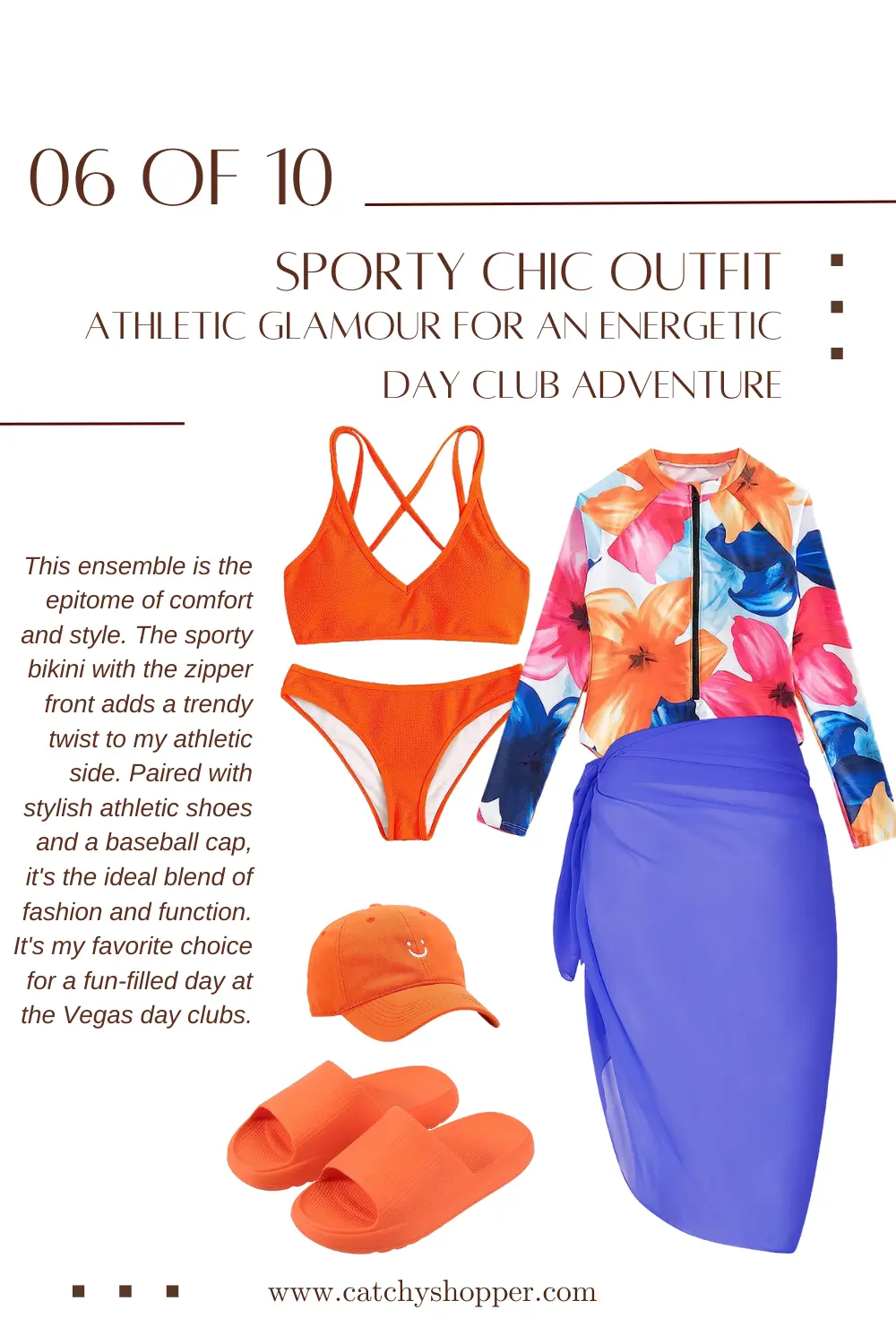 But if you're feeling athletic, go Sporty Chic. Try a sporty bikini or one-piece swimsuit featuring athletic elements, like a zipper front, ensuring trendiness without compromising comfort. Complete this outfit with stylish athletic shoes and a baseball cap for that chic sporty vibe. A lightweight cover-up is your go-to when stepping out of the water, making this look ideal for the energetic, fun-filled day clubs of Vegas.
Island Explorer Outfit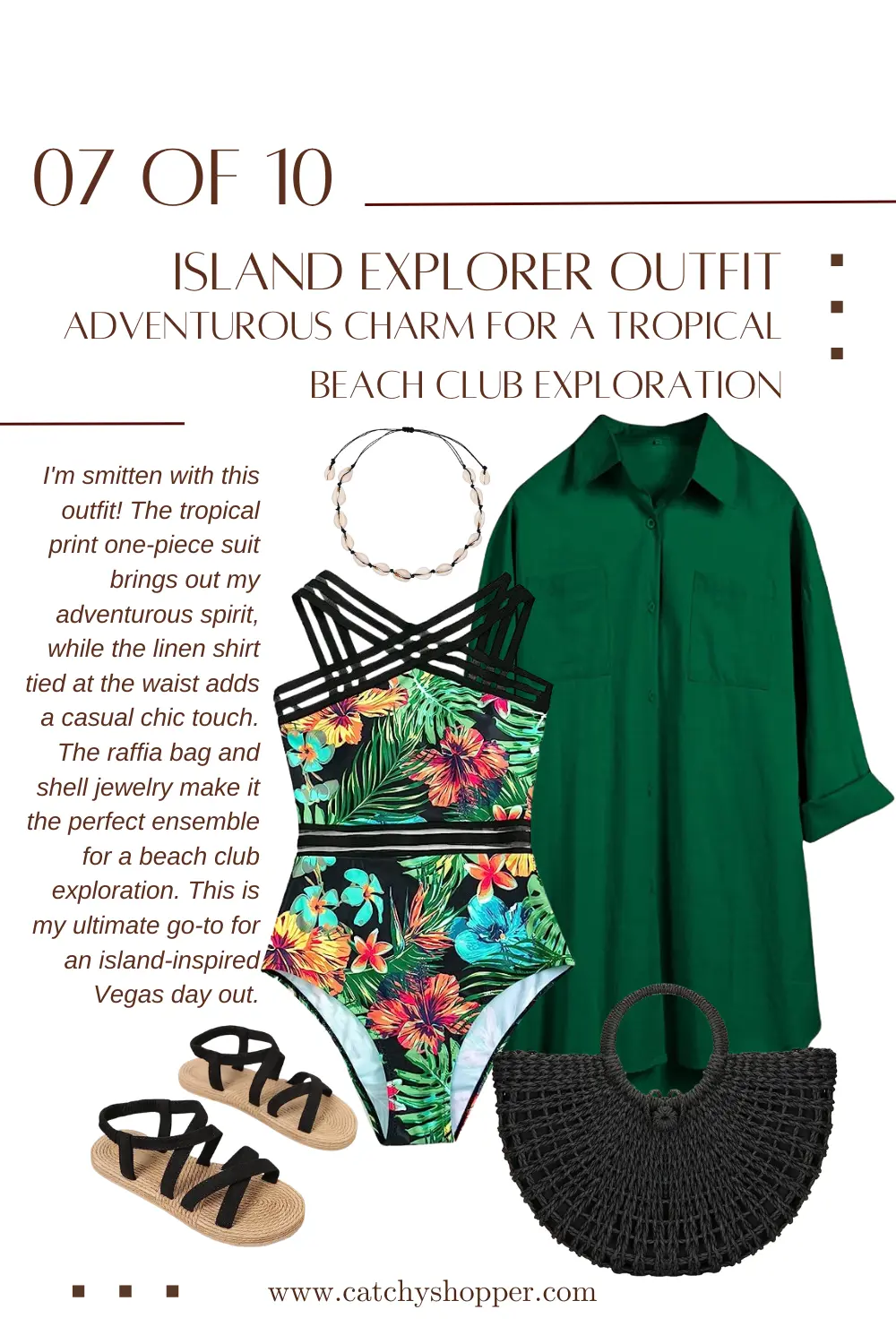 A tropical print one-piece suit or stylish swimwear with fun cut-outs make for a thrilling ensemble, complemented with a linen shirt tied at the waist. A raffia bag, shell jewelry, and a pair of trendy flat sandals are your treasures for the day, making it perfect for those wanting to explore the maximum number of beach clubs in Vegas.
Sunset Sophisticate Outfit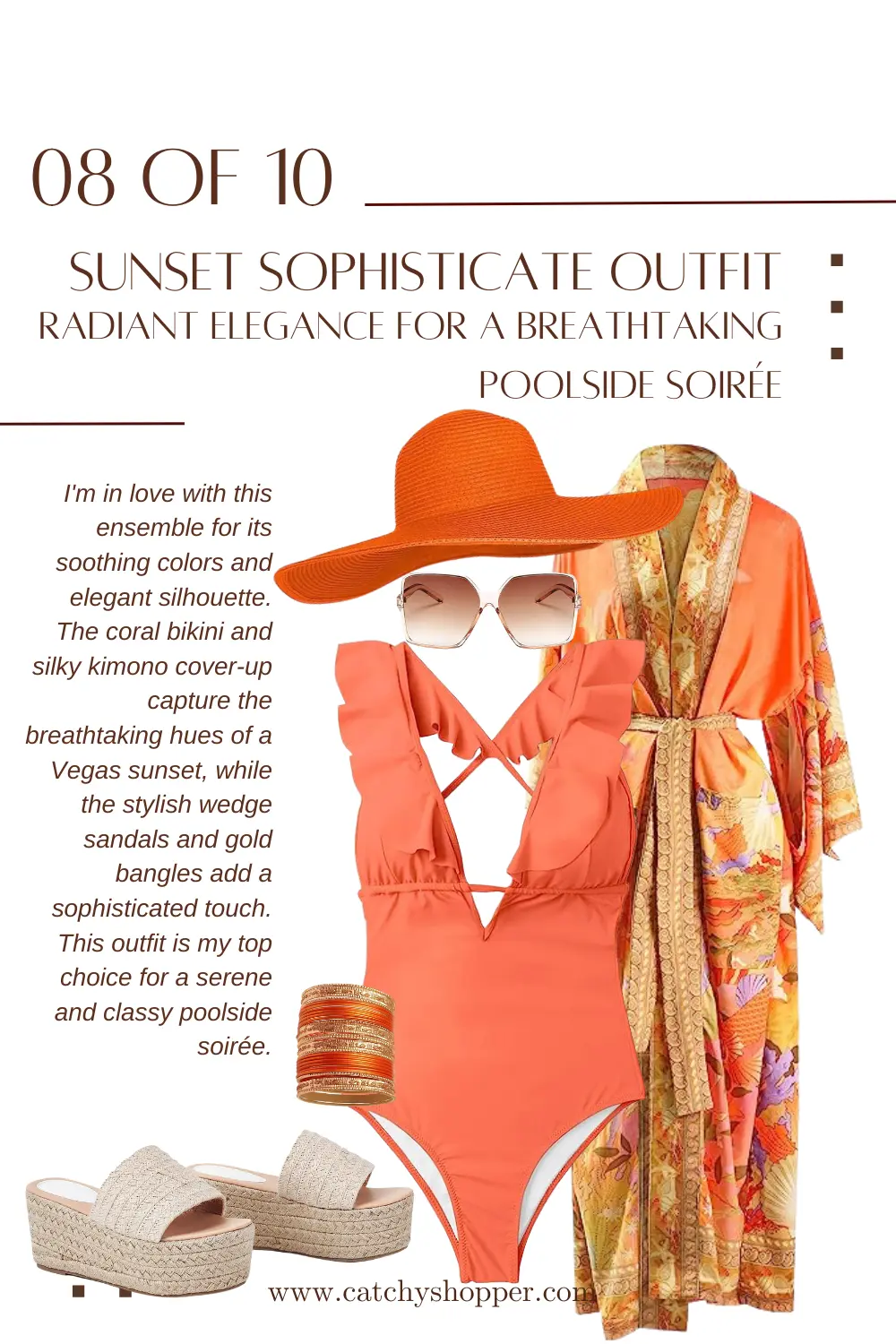 If you're feeling fancy go for a coral or sunset-colored bikini paired with a silky kimono cover-up is your canvas, waiting to be painted with your personal style. Complement this look with gold bangles, oversized sunglasses, a straw hat, and stylish wedge sandals, forming the perfect picture of sophistication for a poolside soirée.
Desert Dazzle Outfit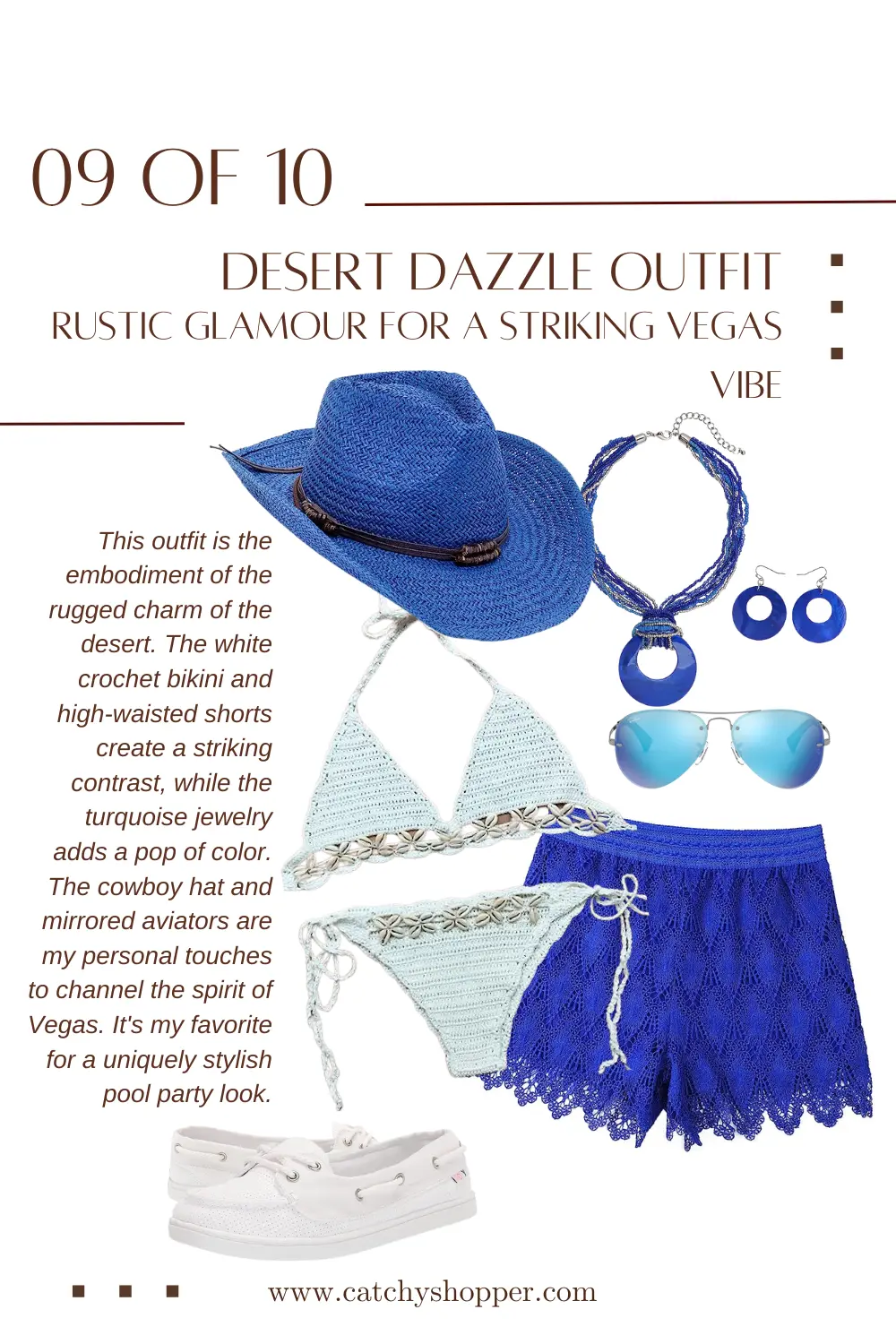 If you're feeling the desert vibe, go for the desert dazzle look. A white crochet bikini teamed with high-waisted shorts and blue jewelry creates a striking contrast against the Vegas sun. Finish your look with a cowboy hat, mirrored aviators, and boating shoes. This outfit pays homage to Vegas's desert roots with a stylish twist.
Nighttime Neon Outfit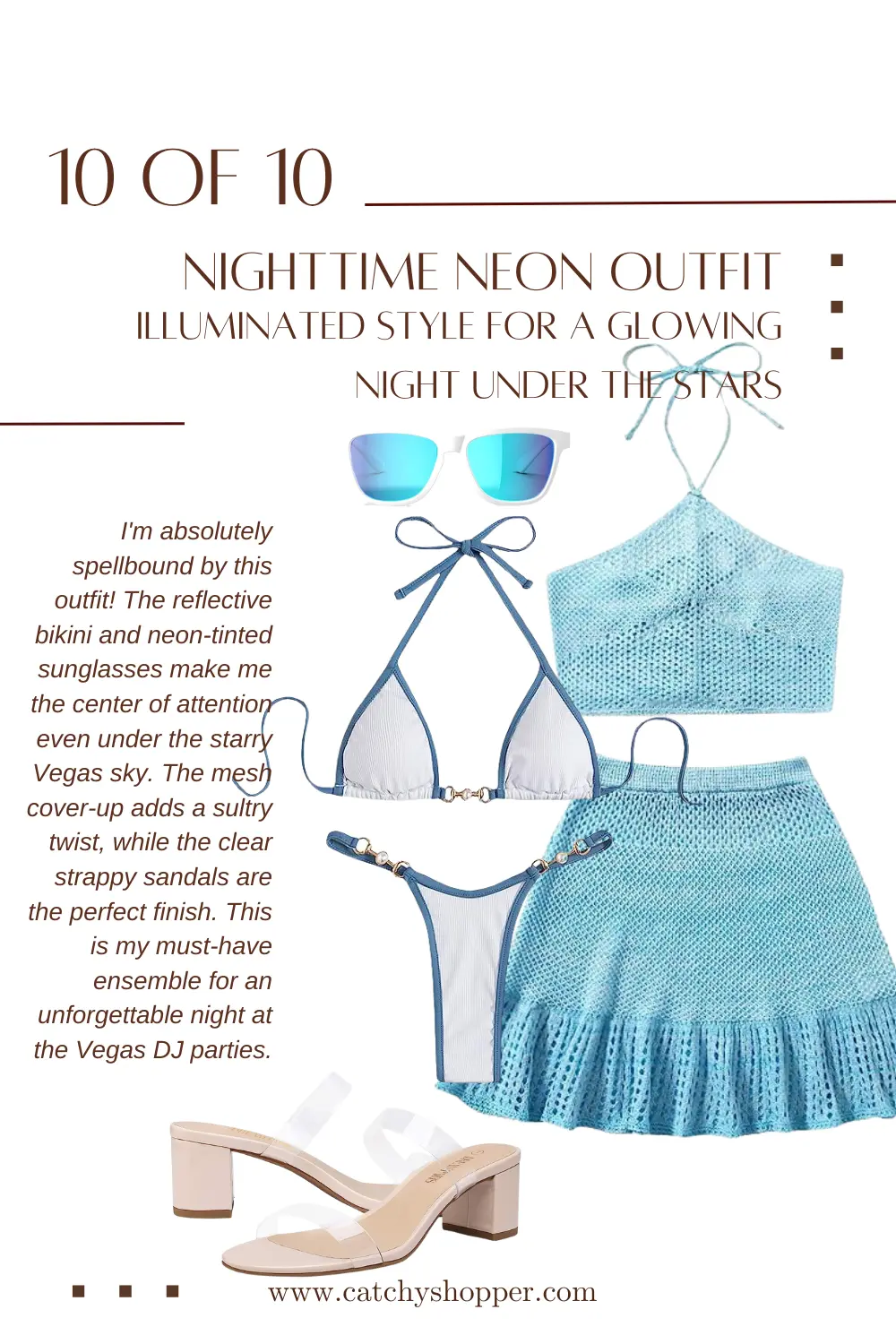 Finally, when the sun goes down, the nighttime neon look has you covered. A reflective or glow-in-the-dark bikini, paired with a mesh cover-up and neon-tinted sunglasses, ensures you shine bright, even under the stars. Team this with clear strappy sandals for a memorable night swaying to the beats of Vegas's world-class DJs.
Final Thoughts
Regardless of the outfit you choose, exude confidence and make an unforgettable splash at the Las Vegas pool parties! The vital aspect is to respect the strict dress codes, which aim not just at maintaining decency, but also at upholding style. So, seize your stylish pair, your swimsuit, and let's cause a stir at the pool parties, day clubs, and beach clubs of Vegas!
Other Posts You May Like
💡
Beach and Resort Wear
Prepare for your next holiday with our Resort Wear and Beach Wear suggestions. Also, make a splash with our Pool Outfits that are both stylish and comfortable.
💡
Special Occasion Outfit
Dress up for the special days with our 4th of July Outfit, or check out our Jury Duty Outfits for ideas on what to wear for civic duties. Start your style journey now!
Comments