This post may contain affiliate links, please see our privacy policy for details.
Hello, darlings! Welcome back to our style sanctuary, where we're all about elevating your fashion game, wherever you may be globe-trotting. Do you remember our fabulous post on What to Wear in Vegas for Every Event? Well, hold onto your hats because we're about to crank up the heat with a fresh, sizzling style guide perfect for those unforgettable Vegas summers.
Get excited for Summer Vegas Outfits!
Our dazzling City of Lights, Las Vegas, is an explosion of vivacity, packed with luxurious casinos, top-tier dining, vegas pool parties, and the most glitzy, high-energy shows you can imagine. Now, when dressing up for a city this glam, you have to strike the right balance between style and comfort. Let's keep it real, no one feels fabulous when they're about to melt. And that's why this guide is your go-to style scripture to look spicy hot but feel refreshingly cool!
In this post, we're going to dissect 12 fashionable yet smart outfits that just shout Las Vegas weather. Whether you're chilling by the poolside or rocking it at the casino, we've got the ideal ensemble for you. Each outfit idea is curated to ensure you're the head-turning diva at any event, without neglecting the sizzling Las Vegas heat.
So, are you ready to embark on this stylish journey with me and master the dress code for an unforgettable Las Vegas summer? Let's infuse the vibrant spirit of a Las Vegas summer into each and every outfit. Come on, let's dive in, babes!
What to Wear to Vegas in June
If you're packing for an adventure in Las Vegas in June, you've gotta prep for that scorching sun. Now, I know we always want to look our fabulous best, but in Vegas heat, it's all about striking the right balance between staying cool and staying chic.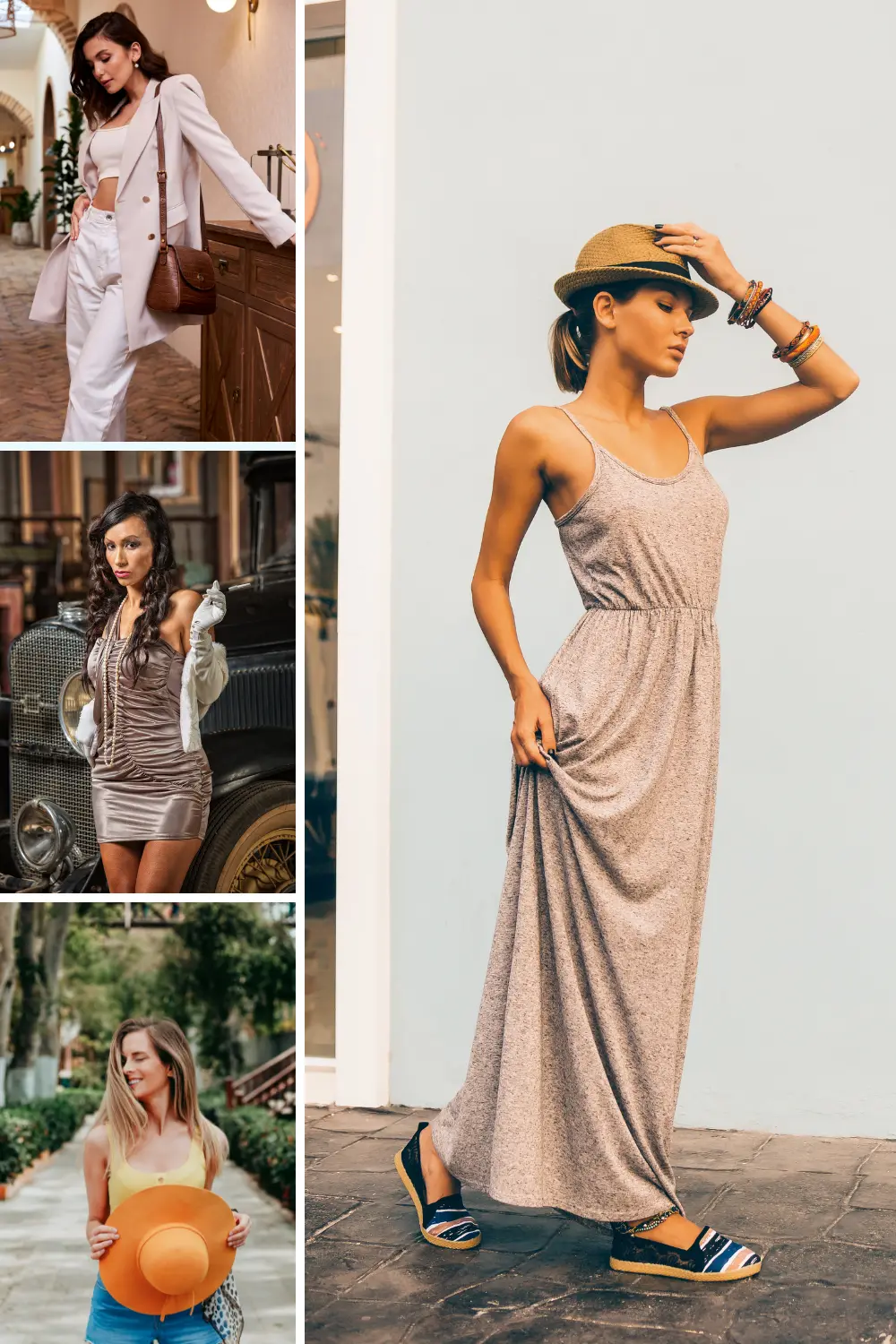 Lightweight, Breathable Fabrics: Now, you've got to trust me on this, the magic is in the fabric. Think light, airy, and breathable. We're talking cotton, linen, or silk. These are your best friends when it comes to keeping it cool as the Vegas sun turns up the heat.
Dresses for Las Vegas Nightlife: For those steamy Vegas nights, nothing speaks glamour like a dress that's just the right blend of sassy and comfy. Perhaps a billowy maxi dress or a playful, breezy mini skirt? Don't be afraid to play with bold colors or fun prints. And remember, the Vegas nightlife is a sparkling show - don't be afraid to shine! A bit of sparkle or embellishment on your dress? Yes, please!
Accessories: Accessories, oh, they can truly make or break an outfit. For those sunny days, grab a wide-brimmed hat and some killer sunglasses. Nighttime calls for a little more bling, think statement pieces like oversized hoop earrings or a standout necklace.
Footwear: Shoes, my lovelies, your choice of footwear should blend comfort and style. Daytime calls for trendy sandals or easy slip-ons. If you're a heels girl like me, go for a pair that isn't sky-high but still has the power to turn heads. A classy pair of wedges or block heels can be the perfect match.
Makeup and Hair:  When it comes to makeup and hair, less is more in the desert heat. Keep your makeup minimal and natural to avoid a meltdown. Don't forget products with SPF to protect your beautiful skin. For your hair, consider stylish updos like a high ponytail, an elegant bun, or a cute braid that keeps it off your face.
So remember, when dressing for Las Vegas in June, it's all about fusing comfort and style. With the right outfit and accessories, you're all set to own the Vegas nightlife and outshine the sun in style!
What to Wear to Vegas in July
If you're headed to Las Vegas in July, get ready to sizzle in style while staying cool. The city heats up during this peak summer month, so you've got to dress in ensembles that feel breezy, comfortable, and of course, super stylish. Here's how you can rock that look for your July adventure in Sin City.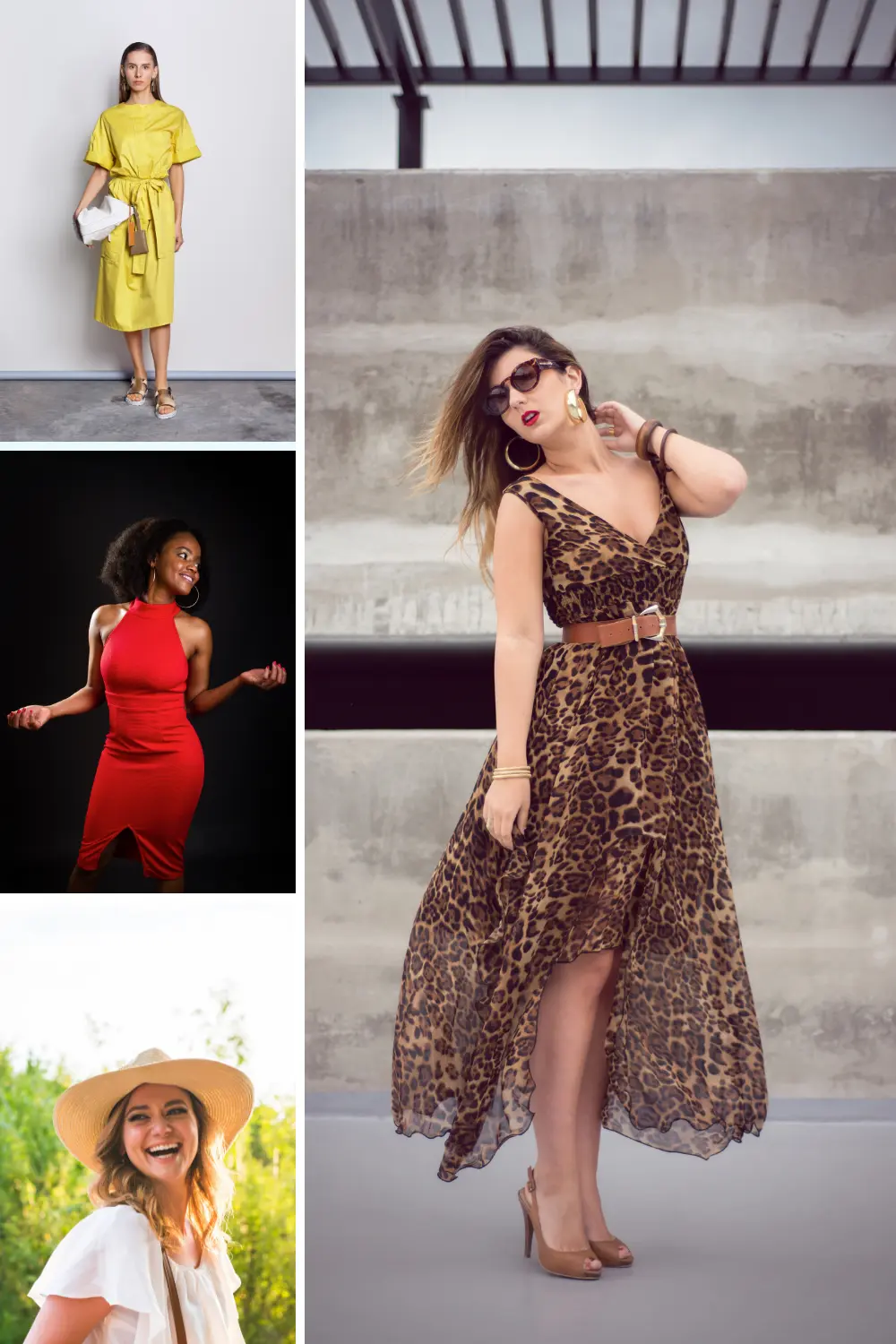 Las Vegas Dresses: Dresses are your fashion BFFs for Las Vegas in July. They give you that comfort and breathability while keeping it oh-so-chic. Reach out for fabrics that are light and airy, think linen, cotton, or rayon. A swaying midi dress or a laid-back, cool sundress can be your go-to for daytime exploration, keeping you cool as you soak in the city vibes.
When the sun goes down, it cools off a bit, but don't let that fool you, it's still warm. A sexy silk or satin midi dress with straps in a bold color or a cocktail dress with a dash of sparkle can be your perfect outfit for a night to remember. Remember, Vegas is all about glitter and glamour, so don't hold back!
Accessories: Accessories are the cherry on top of your outfit sundae. For daytime, a fashion-forward sunhat and oversized sunglasses are must-haves for some stylish sun protection. A tote or a backpack can be both trendy and practical for your essentials. As night falls, go for the glamour with statement jewelry - chandelier earrings or layered necklaces, anyone? And let's not forget a sleek clutch to add that extra glam to your evening look.
Footwear: Footwear that's comfy is the way to go. For daytime adventures, flat sandals or trendy sneakers would be ideal. For the evening, a pair of heeled sandals or platform heels can give you that perfect blend of comfort and style.
Makeup and Hair: When it comes to makeup in the Vegas heat, less is always more, my darlings. Keep it simple and natural with waterproof products to last the day. A tinted moisturizer with SPF, a touch of waterproof mascara, and a hydrating lip tint can be your best friends. For your hair, think of updos like a high bun or a cool braided hairstyle to keep you feeling fresh and fabulous.
Remember, the secret of Las Vegas summer outfit ideas in July is all about pairing comfort with style while acclimatizing to the city's vibrant energy and blazing heat. With the right choices, you'll be ready to experience all that Las Vegas has to offer, turning heads all along the way.
What to Wear to Vegas in August
As August arrives, Las Vegas is transitioning from the peak of summer heat toward the slightly cooler end of the season. This period brings about an opportunity to experiment with versatile and adaptive clothing that can handle changing temperatures. Here's how to curate the perfect wardrobe for Las Vegas in August.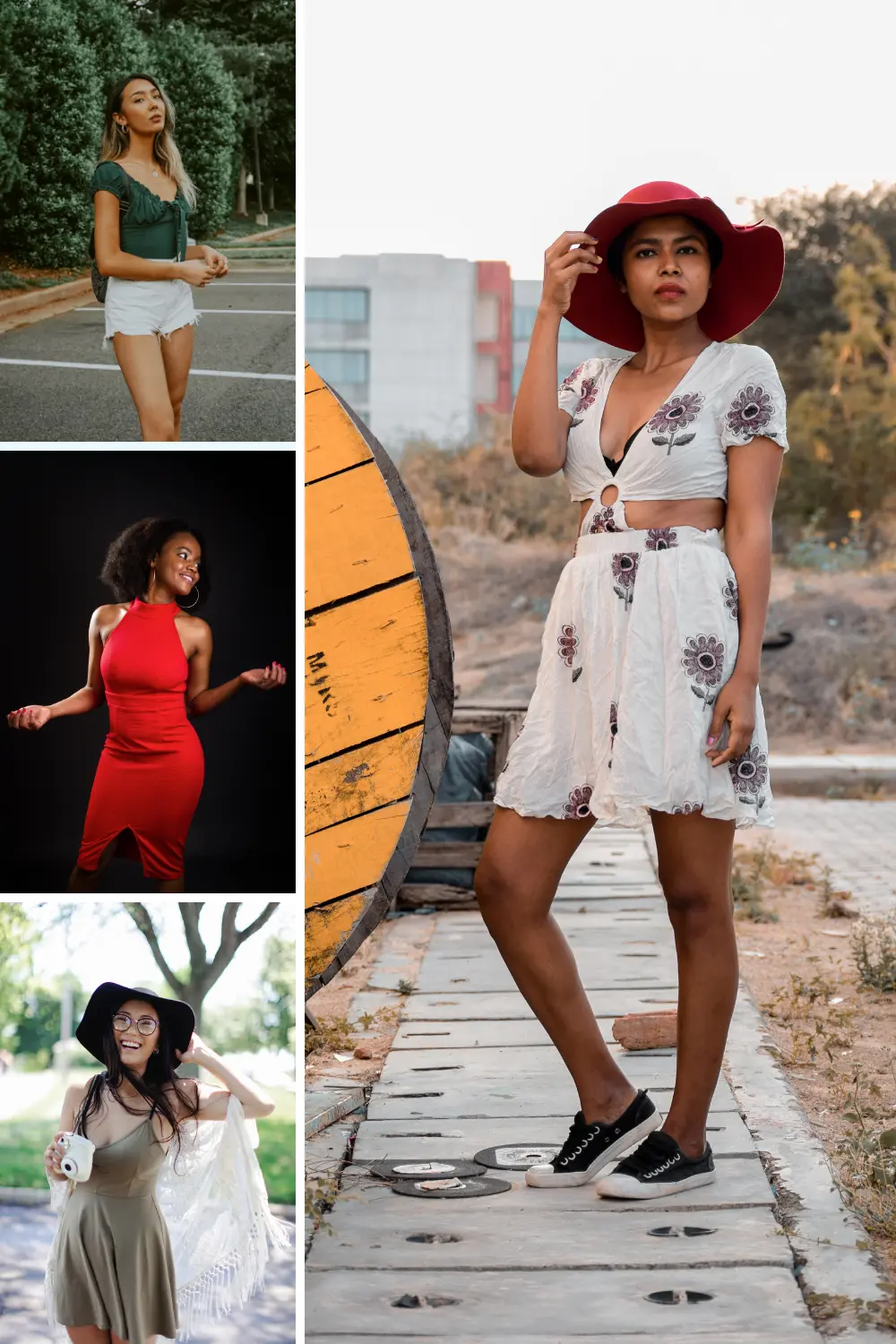 Dresses for Las Vegas: During the day, continue with breathable, lightweight fabrics that can keep you comfortable in the heat. Consider a sleeveless or off-the-shoulder maxi dress in vibrant colors or bold patterns. These can make a stylish statement while also keeping you cool.
As the temperatures begin to drop slightly towards the end of the month, you can begin to incorporate more transitional pieces into your wardrobe. A denim or lightweight linen dress can be a chic and practical choice for this time of year.
For the Las Vegas nightlife, opt for versatile dresses that can handle the still-warm evenings but also the chillier late nights. A jumpsuit or a midi dress in a luxe fabric like satin or silk can be dressed up or down, depending on your accessories and outerwear.
Accessories: Layered necklaces, chunky bracelets, and statement earrings can elevate any outfit. During the day, pair your outfit with a chic tote bag to carry your essentials. In the evenings, switch to a stylish clutch or a small crossbody bag. Don't forget your sunglasses for daytime protection from the sun.
Footwear: Comfortable flats or sandals can be your best friend for daytime exploration. In the evening, strappy heels or platform shoes can add a touch of elegance and height to your outfit without compromising comfort.
Makeup and Hair: As the temperatures start to drop slightly, you can play around more with your makeup. Opt for a natural glowy look during the day with a bit of bronzer, a swipe of mascara, and a pop of color on your lips. In the evenings, you can add a bit more drama with a smoky eye or a bold lip. Hair can be styled in loose waves or a sleek ponytail for an effortless yet stylish look.
Remember, August in Vegas calls for a blend of summer staples and transitional pieces that can handle the changing temperatures. With the right outfit choices, you can ensure you're always stylish, comfortable, and ready to enjoy everything that Vegas has to offer.
💡
Dive Into Global Fashion Outfits
Begin your style journey with our succinct guides on global attire. From
Hawaii
's tropical allure,
Greece
's timeless beauty, and
Vegas
's vibrant nightlife, to
Mexico
's sunny beaches, we have fashion insights for every destination. Learn to blend with locals and immerse in each place's unique fashion culture.
Summer Vegas Outfit Ideas
Whether you're out for a casual stroll or headed for a VIP event, these outfits will ensure you're looking your best, while also staying comfortable in the scorching Las Vegas heat. So go ahead, and dress to impress!
Poolside Glamour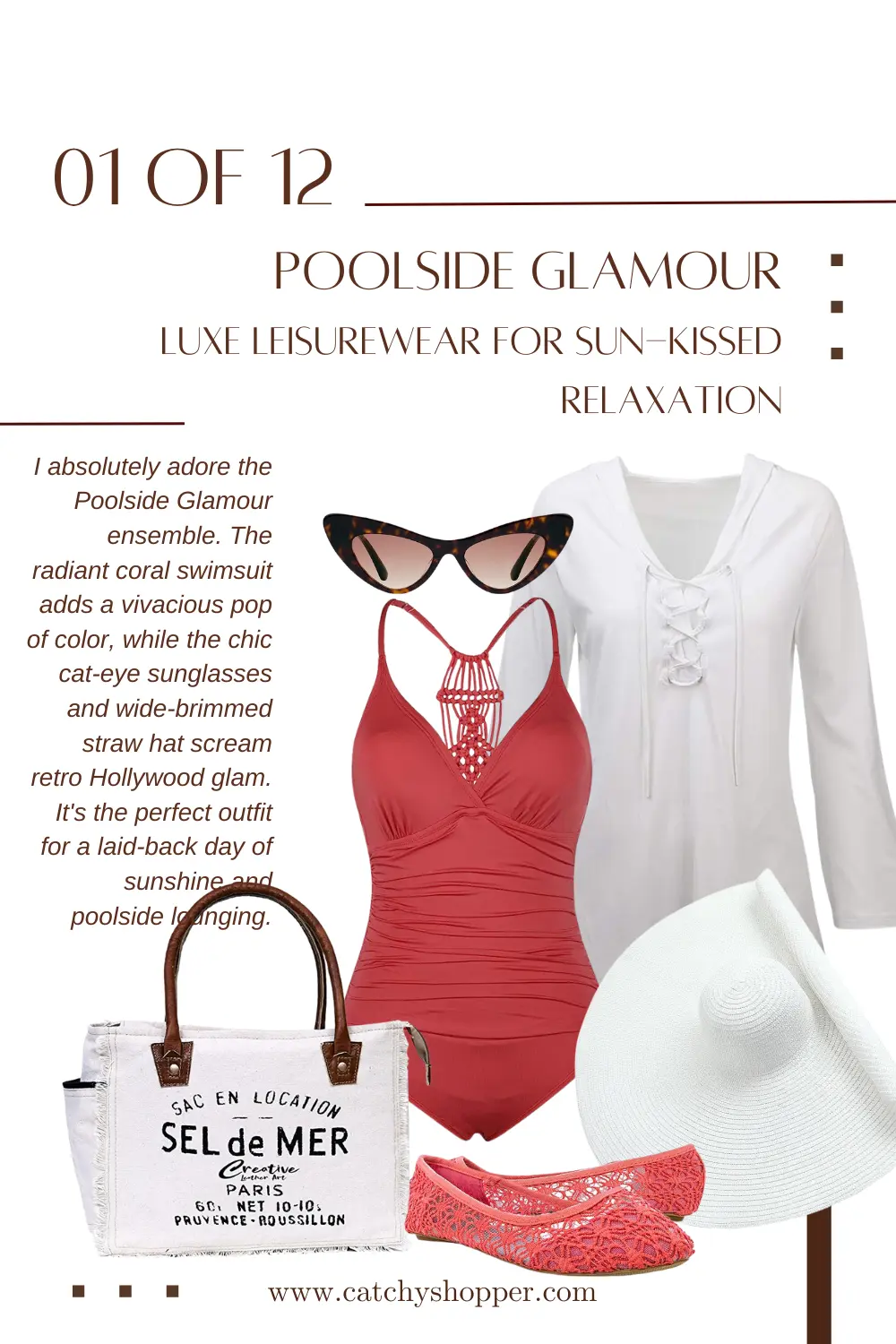 A plunging halterneck one-piece swimsuit in a radiant coral shade will be your statement piece for a pool party in Vegas. Add an oversized, lightweight white hoodie as a cover-up for a cool and relaxed look. Pair this with a wide-brimmed straw hat, chic cat-eye sunglasses in tortoiseshell, and an oversized woven beach tote in a natural color. Slide into a pair of comfortable and trendy coral slip-ons. Style your hair in loose waves and opt for waterproof, natural-looking makeup with a tinted sunscreen, waterproof mascara, and a pop of coral lip tint to match your swimsuit.
Day Out in Vegas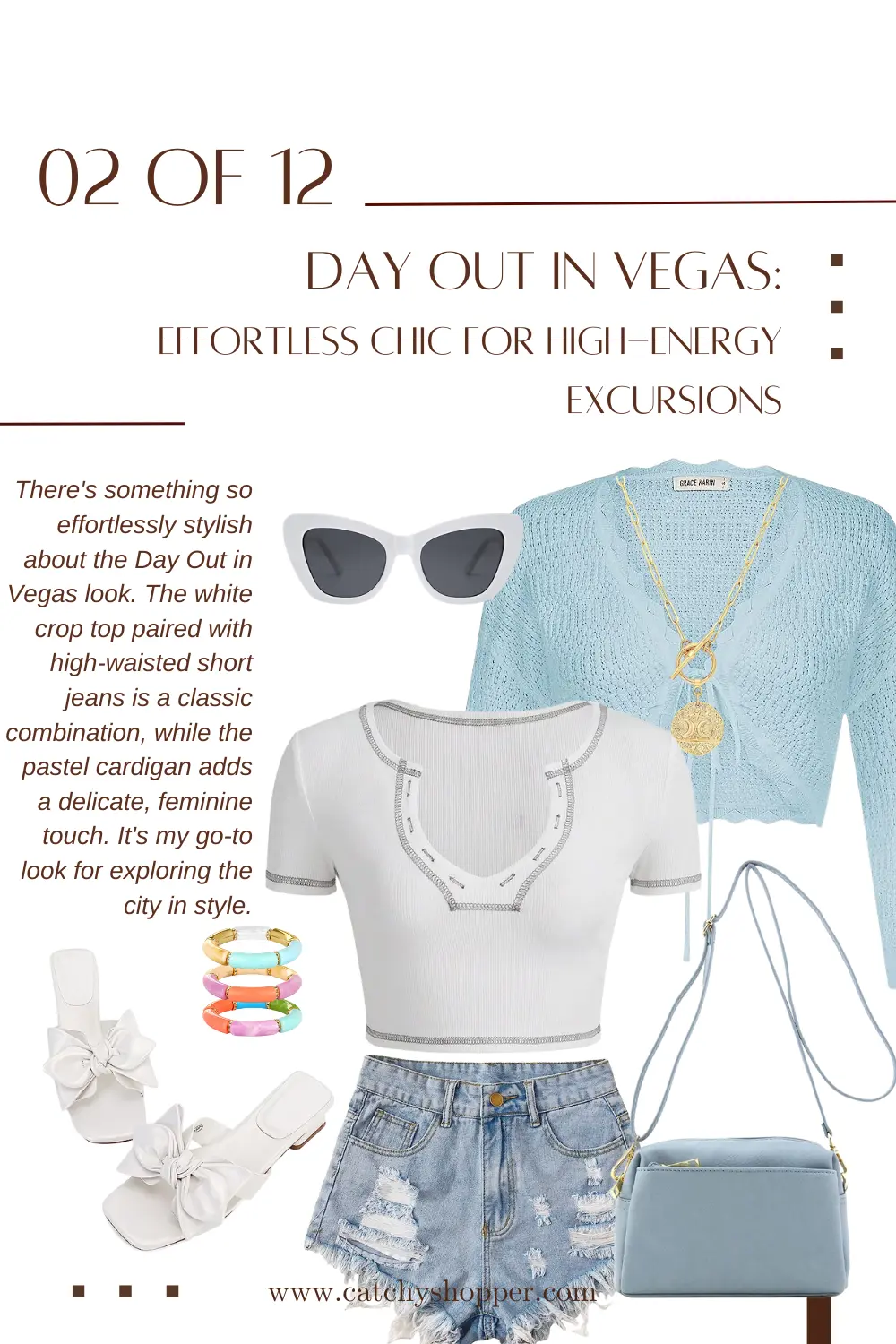 Start with a stylish white crop top and pair it with high-waisted short jeans for a chic, casual look. Throw over a lightweight pastel cardigan to keep you cool. Accessorize with a pastel crossbody bag for easy mobility, stackable gold bangles, a dainty layered necklace, and some trendy oversized sunglasses. A pair of white-heeled sandals will add a touch of elegance. Keep your hair in a high ponytail to beat the heat and opt for a natural makeup look with a focus on peachy tones.
Casual Stroll on the Las Vegas Strip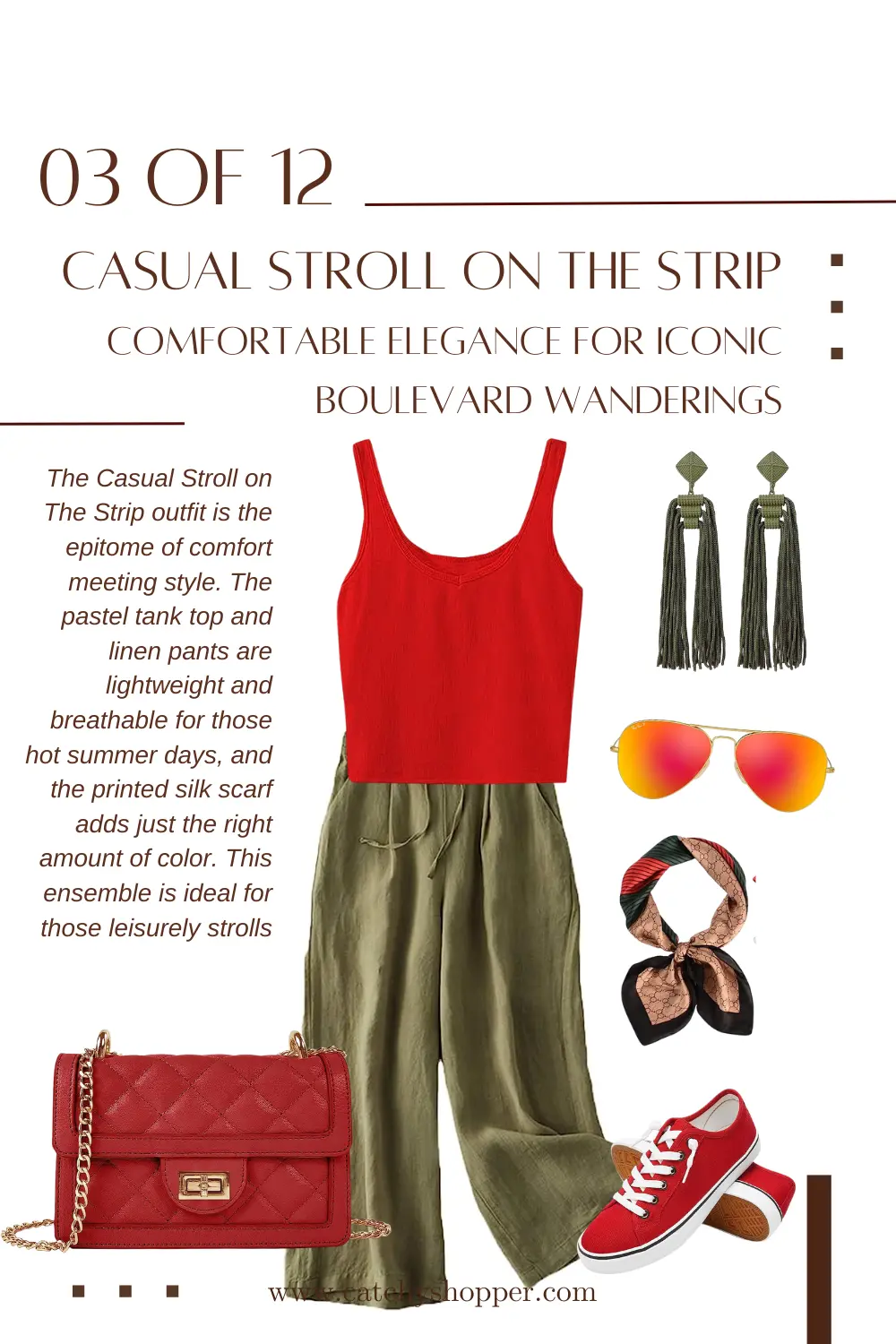 For comfort and style, pair a casual tank top with linen pants in a neutral shade. Add a pair of statement earrings, a printed silk scarf tied on the bag for a pop of color, and some mirrored aviator sunglasses. A pair of white sporty sneakers are ideal for a day full of walking. Wear your hair in a low bun and opt for minimal makeup with a strong SPF and a touch of lip balm.
Casino Night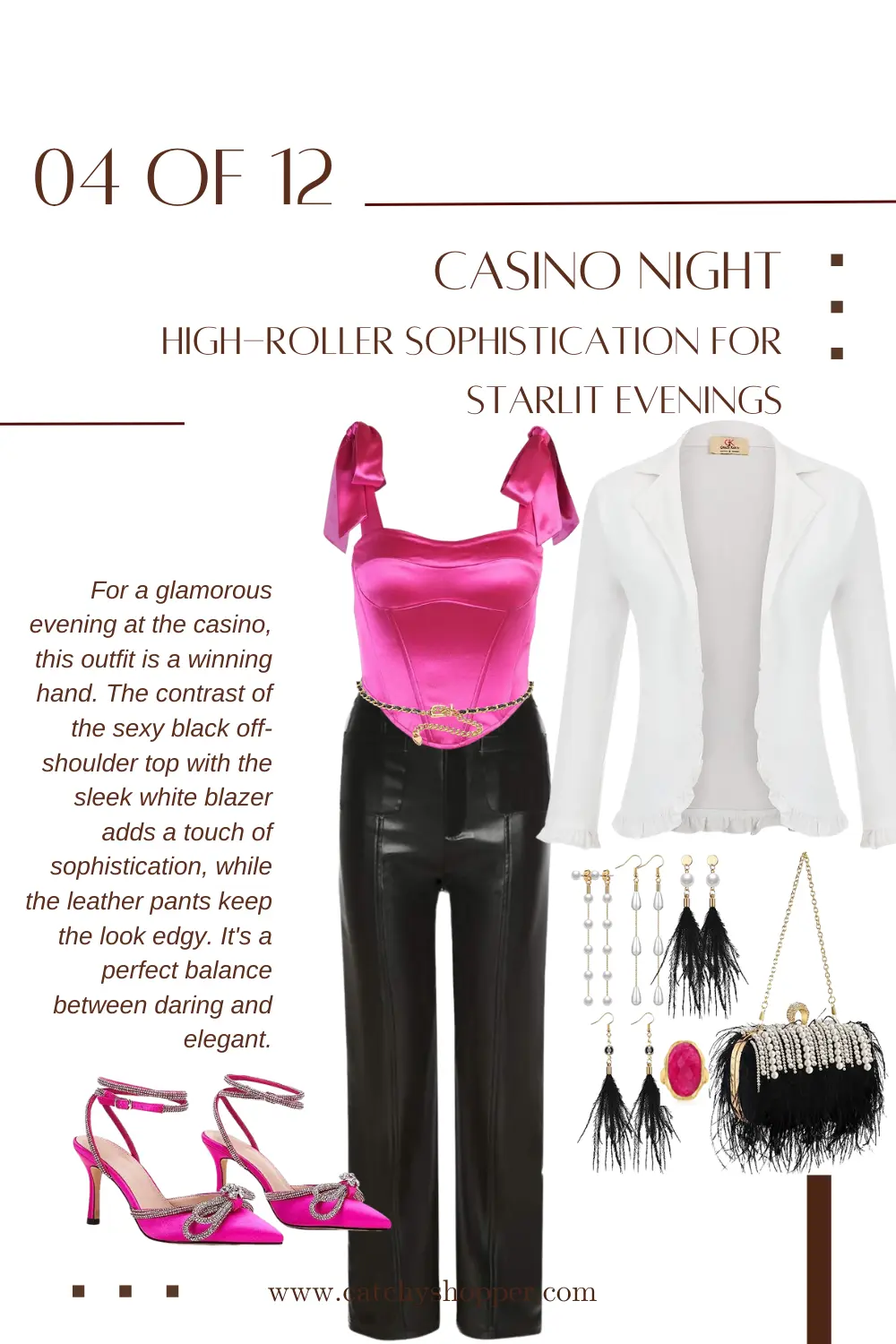 Start with a sexy off-shoulder top paired with high-waist leather pants. Layer this under a sleek white blazer for a monochrome look. Accessories can include a classic black clutch bag, a statement-making cocktail ring, chandelier earrings, and a sleek black belt. Add black kitten heels to complete the look. Opt for a sleek high ponytail and smokey eye makeup for a glamorous touch.
Showtime Glamour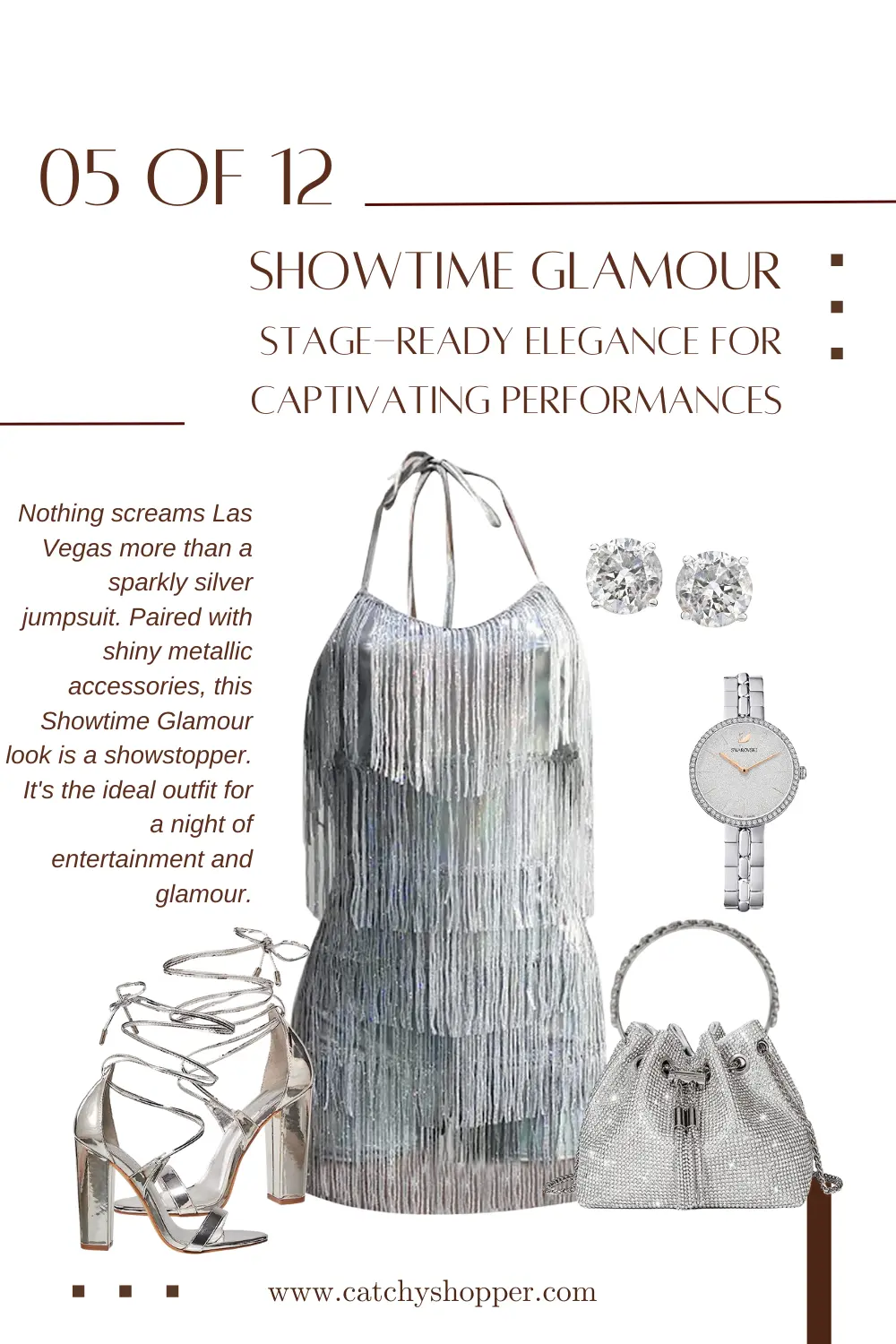 A sparkly silver jumpsuit is perfect for a glamorous night out. Accessorize with a small, shiny, metallic clutch, some diamond stud earrings, and a luxury statement watch. Opt for silver high-heeled sandals to elevate the outfit. Style your hair in a side-parted loose curl and opt for a bold red lip and highlighted skin to match the sparkle of your jumpsuit.
Bohemian Street Style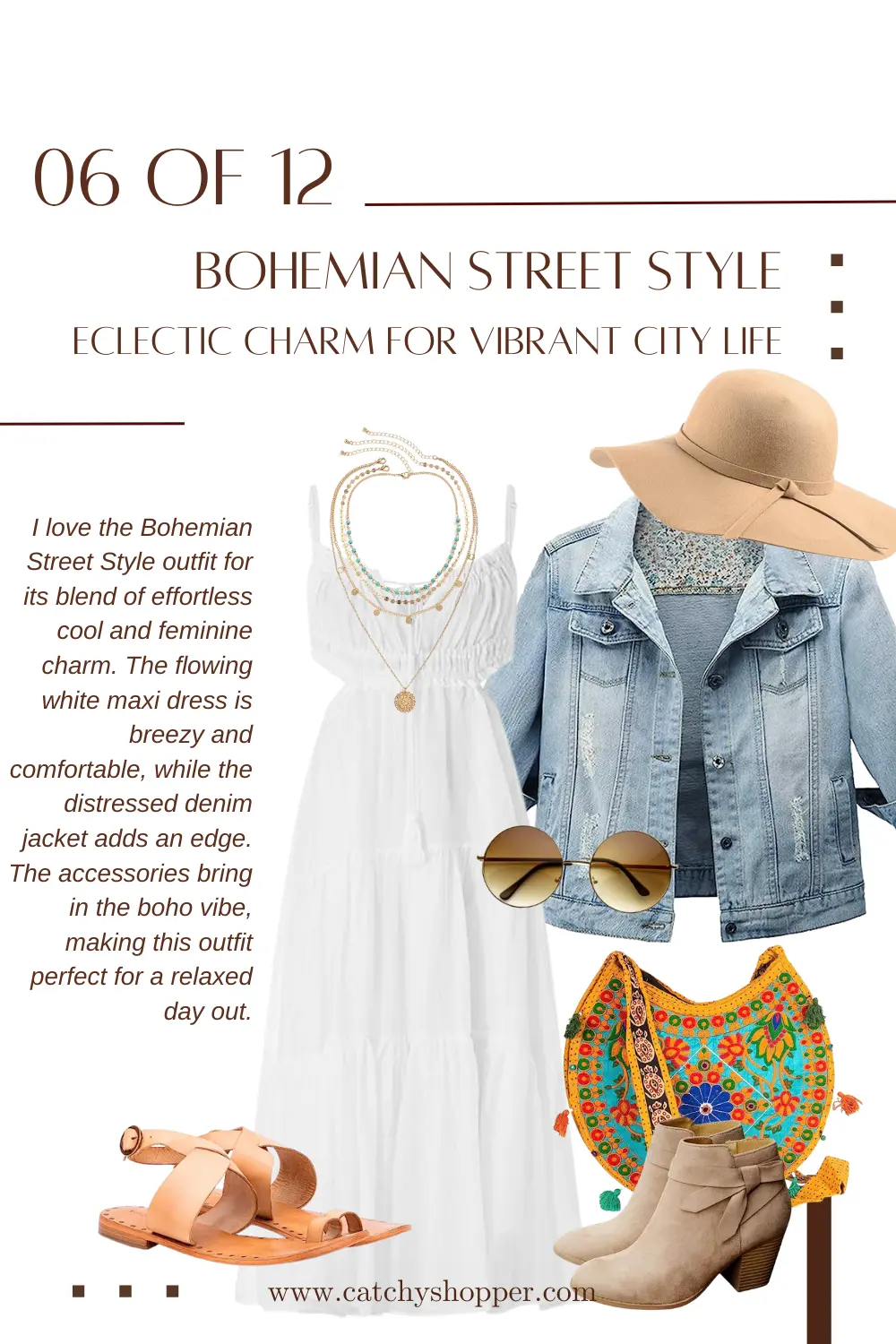 Pair a flowing white maxi dress with a distressed denim jacket for a blend of boho and street style. Accessorize with layered necklaces with natural elements, an embroidered boho bag, a leather wide-brim hat, and round sunglasses. Choose either brown leather boots or gladiator sandals. Opt for a braided hairstyle and natural, earthy makeup tones.
Leisurely Brunch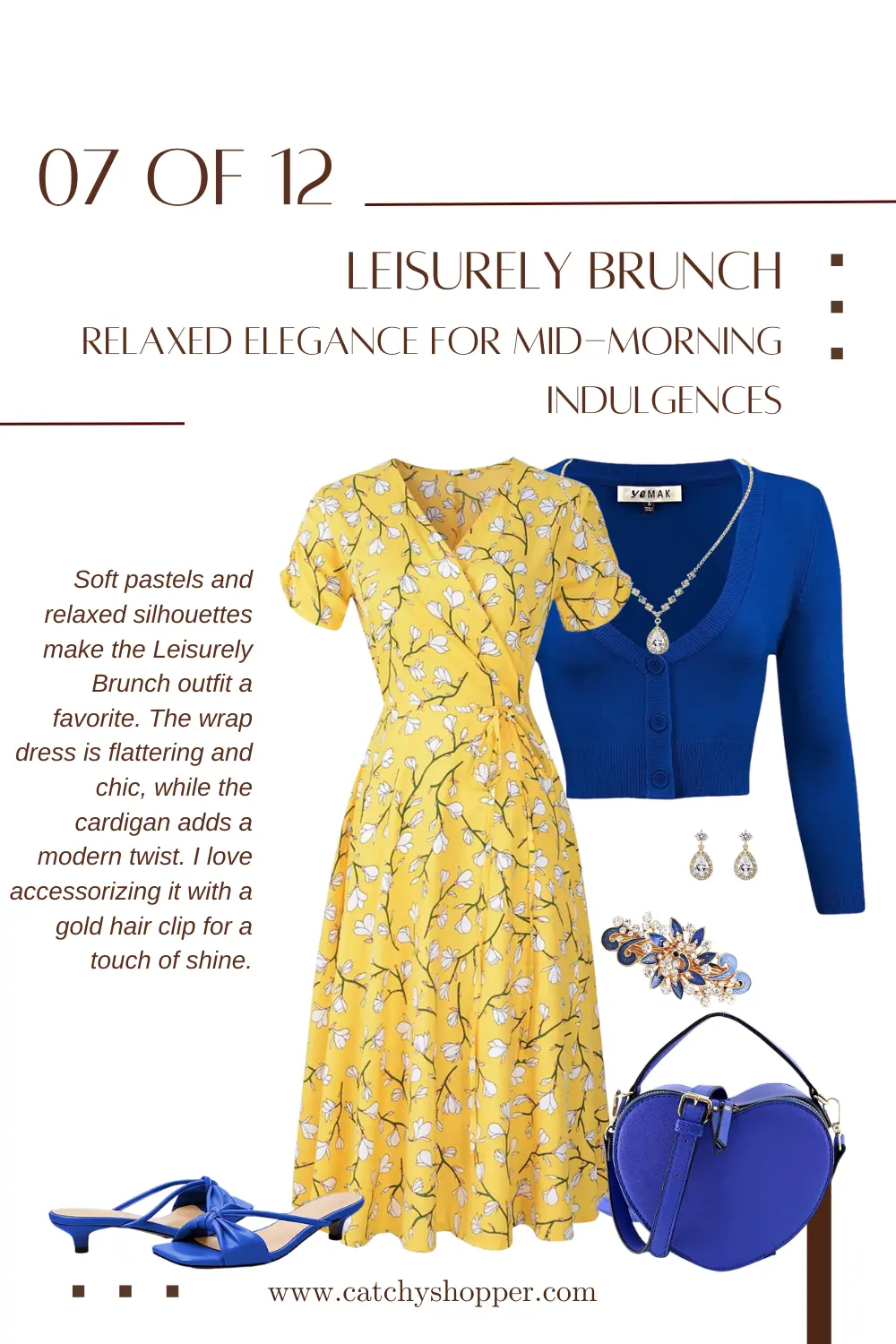 Choose a soft pastel short sleeve wrap dress and throw it over a lightweight jacket in a neutral color. Accessorize with a gold hair clip, a small blue crossbody bag, and minimalist gold jewelry. Pair it with white slip-ons for a laid-back look. A messy bun and a fresh, dewy makeup look with a pop of pink lip tint will complement this outfit beautifully.
VIP Event-Ready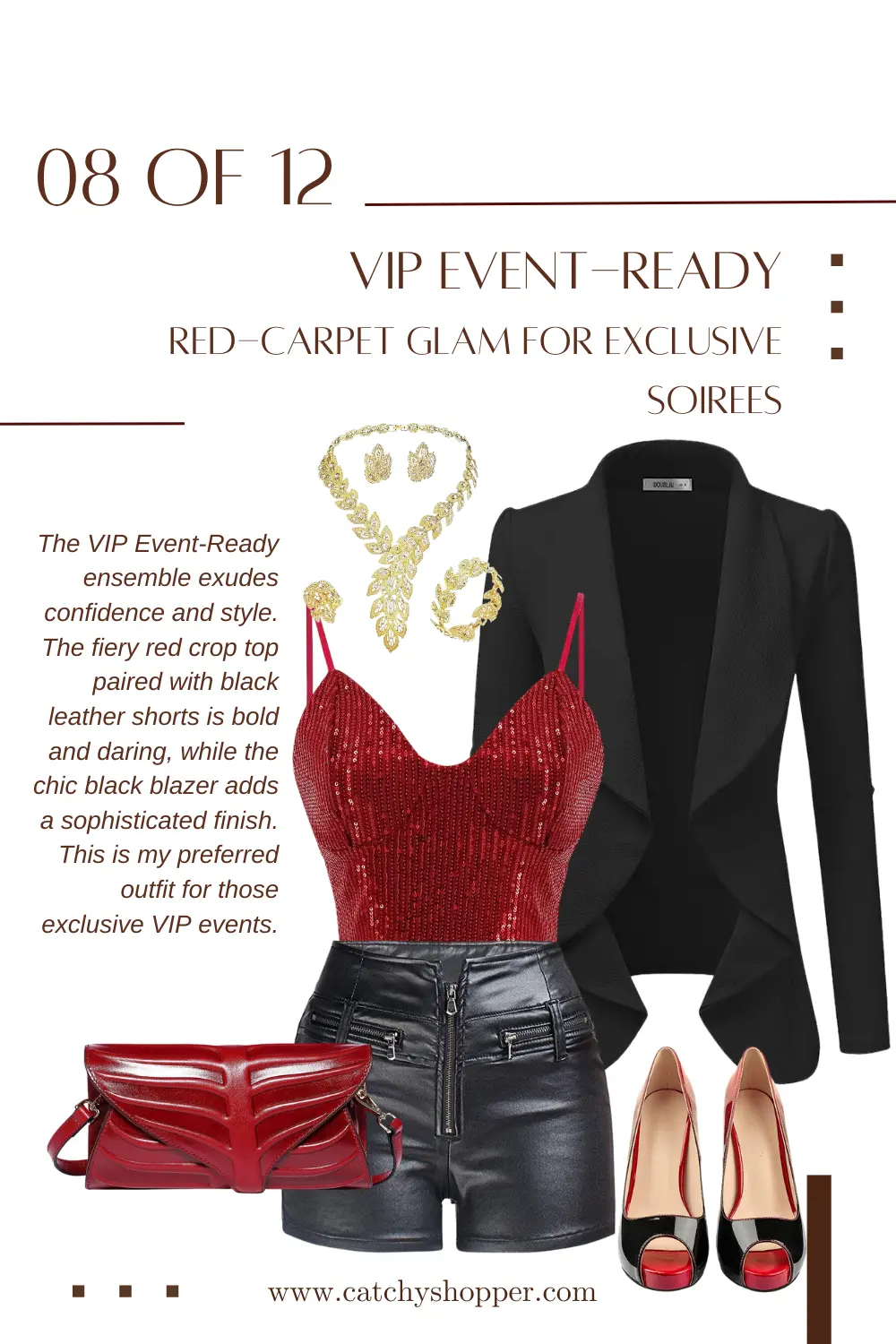 For a bold statement, pair a fiery red crop top with black leather shorts. Layer this under a chic black blazer. Accessorize with a designer clutch, gold statement jewelry, and black high-end kitten heels. Opt for a sleek, straight hairstyle and bold makeup with a focus on dramatic eyes and a red lip to match your crop top.
Day-to-Night Transition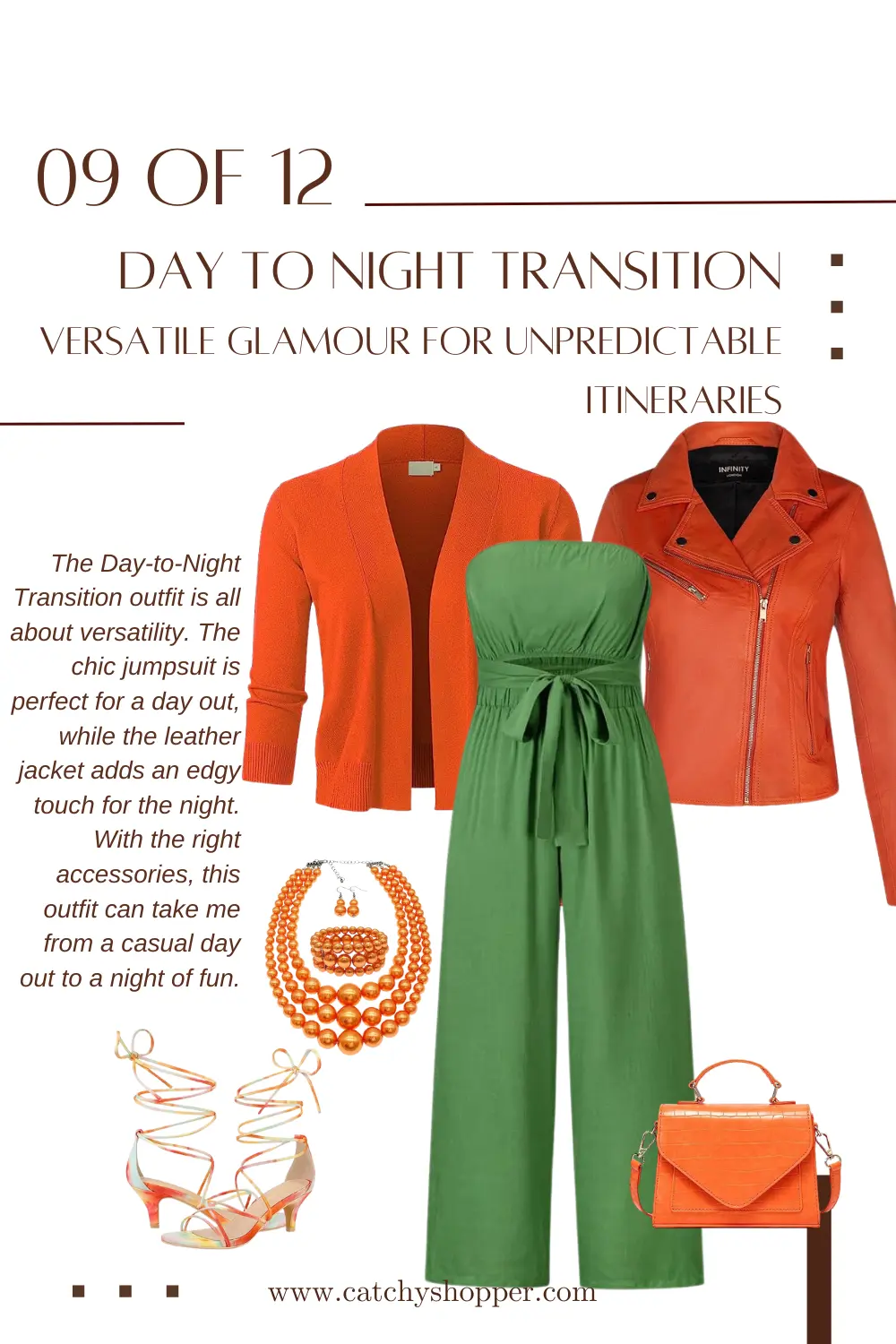 An ideal outfit for transitioning from day to night would be a chic jumpsuit paired with a lightweight cardigan for the day. The jumpsuit can be accessorized with layered necklaces and a pair of strappy-heeled sandals. For the night, swap the denim jacket for a leather one and add statement earrings and a chic clutch bag. Style your hair in loose waves and opt for a natural makeup look with a touch of shimmer for the night.
Shopping Spree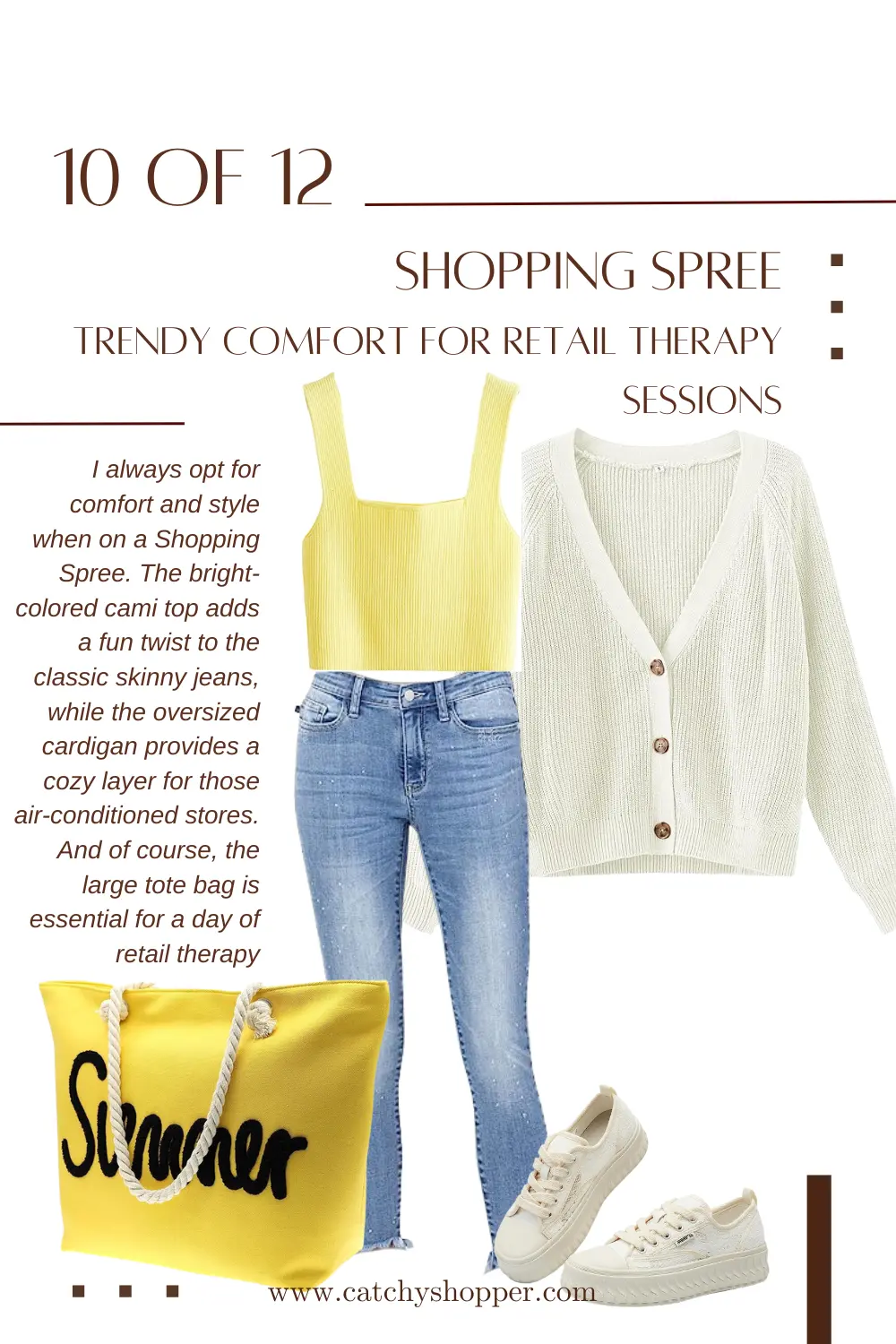 For a shopping spree, comfort is key. Choose a pair of classic blue skinny jeans and pair them with a bright-colored cami top for a pop of color. Add a lightweight, oversized white cardigan for when you're inside air-conditioned shops. On your feet, go for a pair of comfy white sneakers. Don't forget a large tote bag, essential for carrying all your shopping finds. Style your hair in a trendy messy bun and opt for natural makeup, with a pop of color on your lips that matches your top.
Nightclub Glamour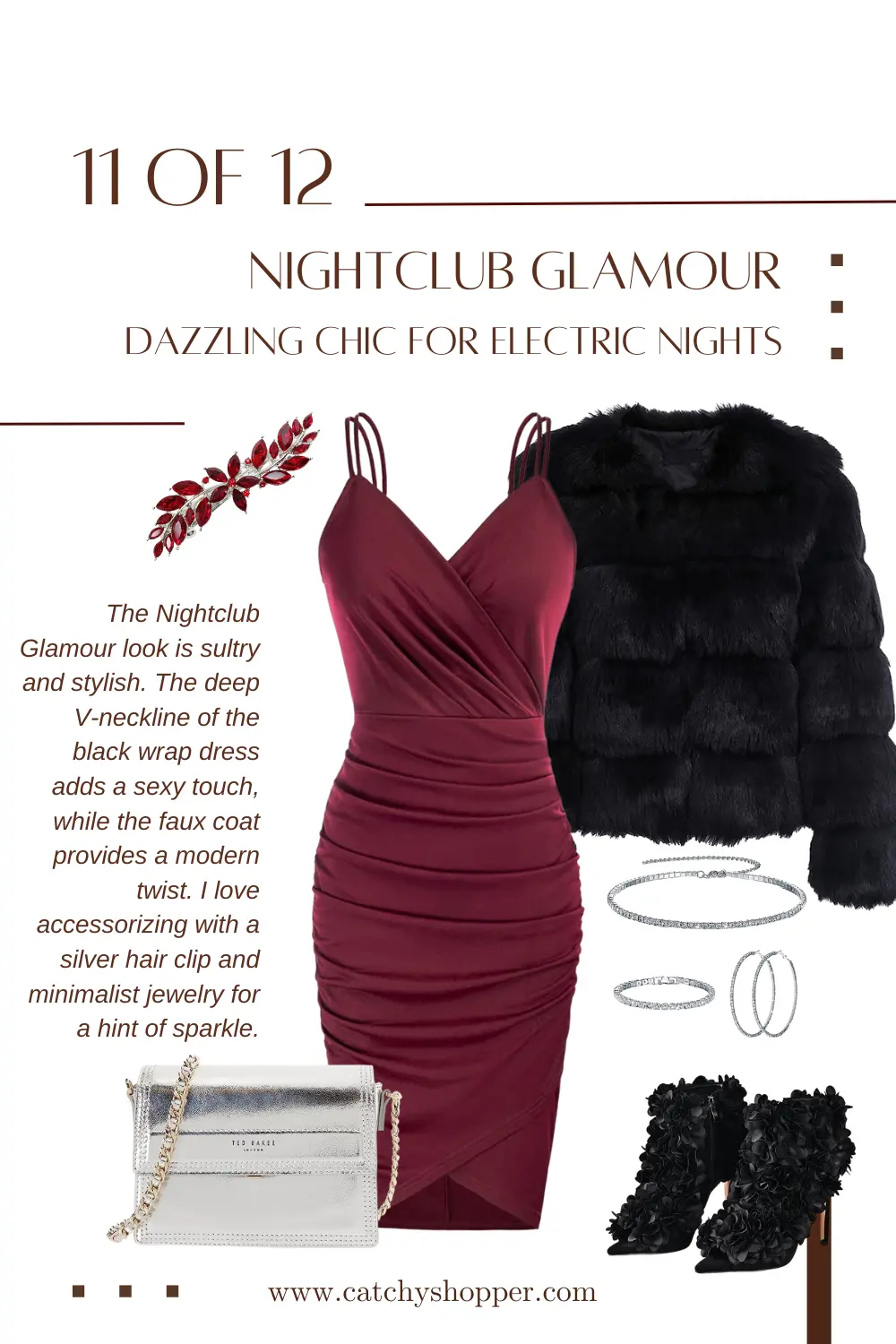 Go for a stunning black sleeveless wrap dress with a deep V-neckline for that sexy nightclub vibe. Pair it with a lightweight black bomber coat to stay warm during the cooler evening hours. A trendy silver hair clip will add some sparkle to your look. Keep your essentials in a small metallic silver crossbody bag and wear minimalist silver jewelry - think thin chain bracelet and small hoop earrings. For footwear, opt for black open-toe heels to match your outfit.
Dining in Style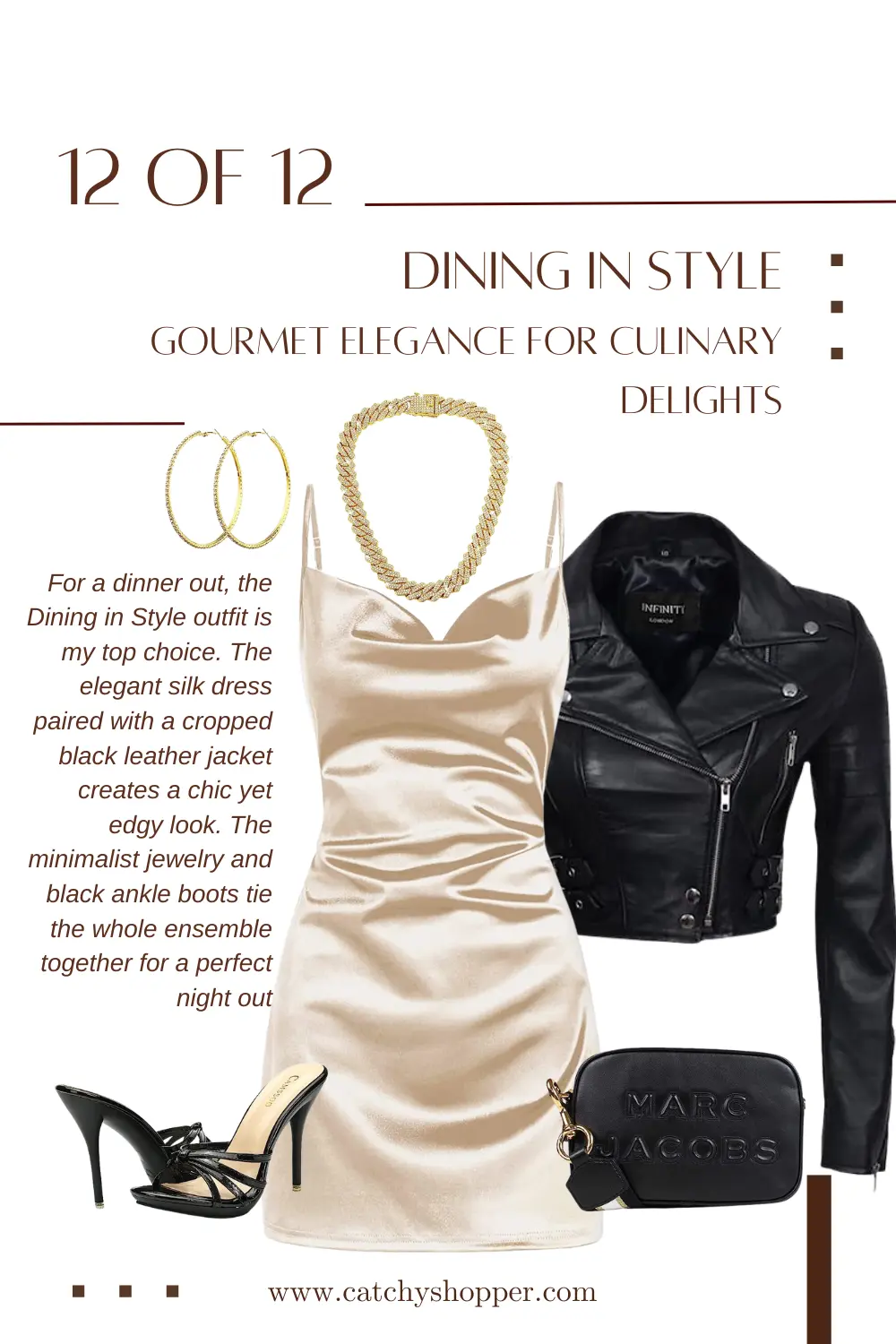 For a stylish dinner out, opt for an elegant silk dress in a neutral color like champagne. Pair it with a cropped black leather jacket for an edgy twist. Minimalist jewelry, such as a thin gold chain necklace and gold hoop earrings, will add a touch of class. Carry a small black leather clutch to hold your essentials and finish off the look with black slip-ons for a comfortable yet chic ensemble.
Final Thoughts
Las Vegas is the perfect place to break away from your everyday fashion routine and celebrate the charm of having fun with your style. With just a few tips, you can confidently create an array of looks guaranteed to turn heads. Be creative and revel in communicating your extraordinary sense of fashion. Dare to dress more daringly and lay the foundation for an unforgettable wardrobe-inspired Vegas trip experience!
Other Posts You May Like
💡
Beach and Resort Wear
Prepare for your next holiday with our Resort Wear and Beach Wear suggestions. Also, make a splash with our Pool Outfits that are both stylish and comfortable.
💡
Special Occasion Outfit
Dress up for the special days with our 4th of July Outfit, or check out our Jury Duty Outfits for ideas on what to wear for civic duties. Start your style journey now!
Comments