This post may contain affiliate links, please see our privacy policy for details.
Welcome back to our fashion series, where we uncover the secret to marrying comfort with style! Today, we're focusing on everyone's favorite theme – lazy day outfit ideas. Whether it's the weekend, a day off, or simply a moment to yourself, we believe in celebrating the art of relaxation without compromising on style.
We understand that lazy outfits are a must in every fashion-forward person's wardrobe, as they allow you to express your style while enjoying the comfort of your own home or running errands. We have curated a selection of outfit ideas that will inspire you to take your lazy day fashion to new heights. Let's dive in and explore these effortlessly chic outfit ideas for your next lazy day!
⬇️19. Cozy Outfit: Comfort Meets Style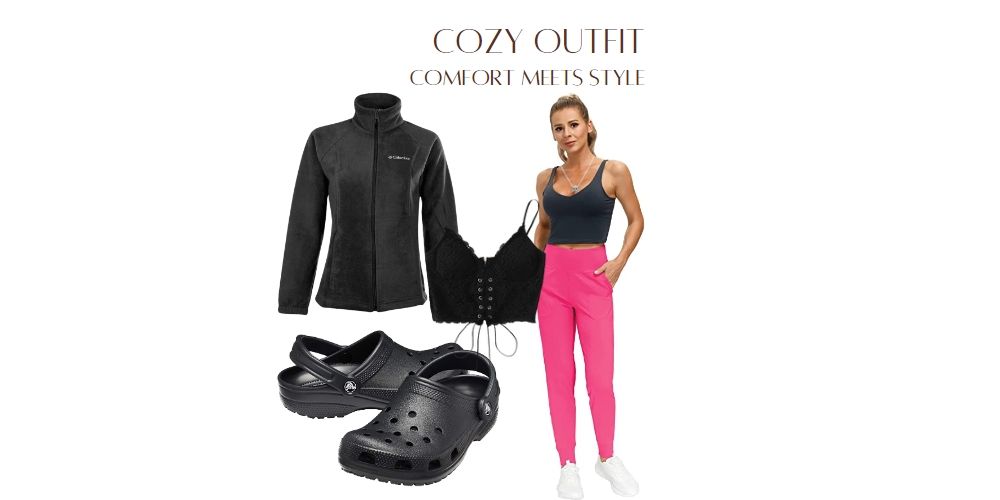 For days when comfort is non-negotiable, our cozy outfit comes to the rescue. This ensemble features a plush fleece jacket perfect for a lazy afternoon or a low-key errand run. The matching crock top and pink joggers are the epitomai of comfort. We've paired them with casual slip-on Crocs, ensuring maximum comfort. Finish the look with a minimalist pendant necklace and a cozy beanie. A comfy "what to wear for a comfy cozy day" solved!
💡Expert Tip: Remember, comfort doesn't mean compromising style! A well-chosen accessory like a minimalist pendant necklace can instantly elevate your cozy outfit and make it chic.
⬇️18. Messy Outfit: Embrace the Chaos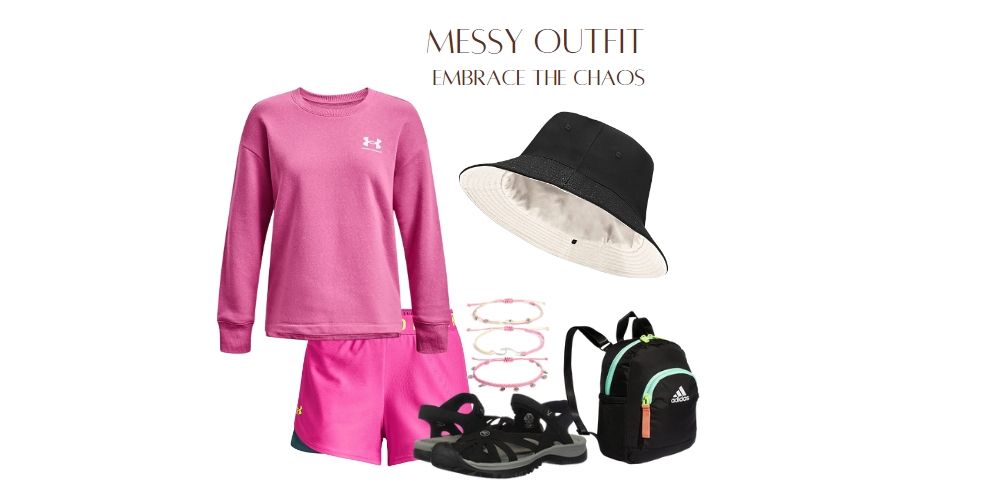 Who says messy can't be chic? Our messy outfit proves otherwise. Begin with a loose, oversized sweatshirt that's both comfortable and forgiving. Add a pair of hiking shorts, perfect for those spontaneous adventures or even a messy day in the garden. Comfortable sandals complete this outfit, ensuring your feet stay happy. Accessorize with a simple anklet, a small backpack, and a wide-brimmed sunhat. This is your go-to running errands outfit that remains cute but comfy.
💡Top Tip: The key to pulling off a 'messy' look is to embrace the effortless aesthetic. A wide-brimmed sunhat isn't just practical - it's also a style statement that pulls the whole look together!
⬇️17. Grey Sweatpants Outfit: Embrace Unmatched Comfort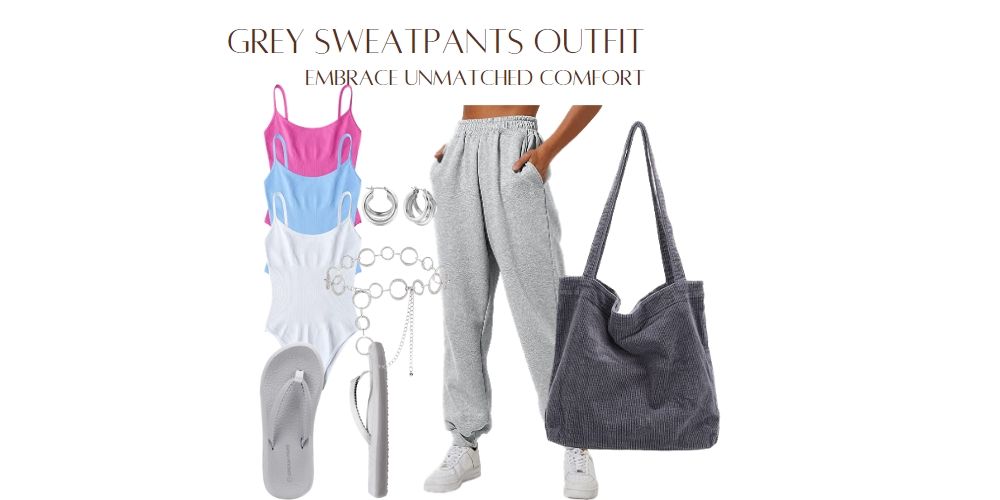 Sweatpants have become a must-have, and our grey sweatpants outfit is a game-changer. Paired with a soft, breathable bodysuit, this look strikes a balance between lazy and stylish. Complement it with a pair of comfy flip-flops and a statement belt to add some flair. Finish the look with simple hoop earrings and a tote bag. Perfect for a laid-back lazy day outfit, it's comfy and easy to wear.
💡Quick Tip: Opt for a statement belt with your sweatpants to add an instant dose of style and pull together your comfy and chic ensemble.
⬇️16. Cute Sweater Outfit: Redefining Lazy Days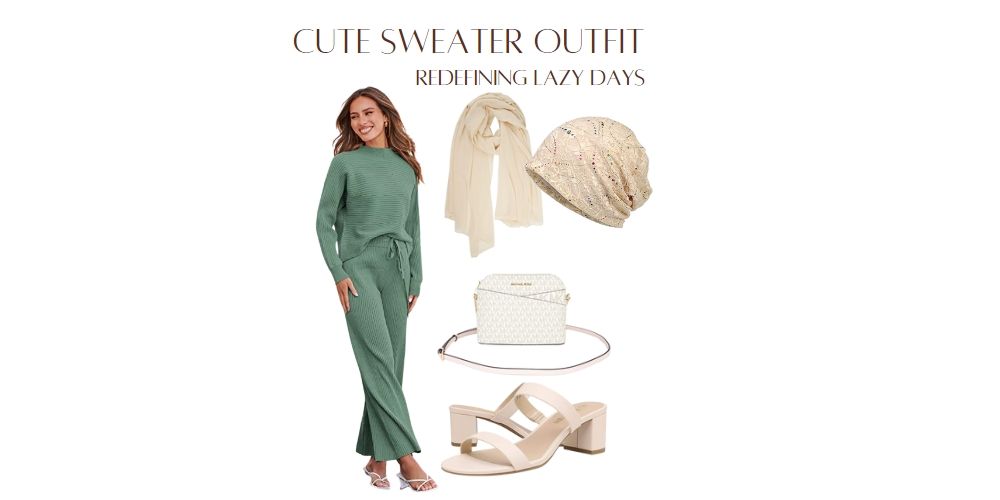 For the perfect lazy winter outfit, look no further than our cute sweater outfit. This look features an oversized, knitted sweater paired with sleek, comfy wide-leg pants. Add a pair of warm low heel sandals to complete this cozy outfit. Accessorize with a light scarf, a beanie, and a crossbody bag. This outfit exudes a comfy chic vibe perfect for a relaxed day out or a cozy day in.
💡Pro Tip: Don't overlook the power of accessories. A light scarf and beanie can add a whole new level of warmth and style to your outfit.
⬇️15. Movie Night Outfit: Cinema Style
Our movie night outfit pairs an oversized cardigan with a relaxed tee and your favorite jeans. Slip into a pair of cozy thick sock slippers and accessorize with a pendant necklace and stud earrings for a low-key yet stylish look. Perfect for an evening in front of the TV, this outfit is the epitome of comfy style.
💡Catchy Tip: For maximum comfort and style, don't forget to slip into your cozy thick sock slippers. They're the perfect end note to your relaxed movie night look.
⬇️14. PJ Outfit: Luxury Lounging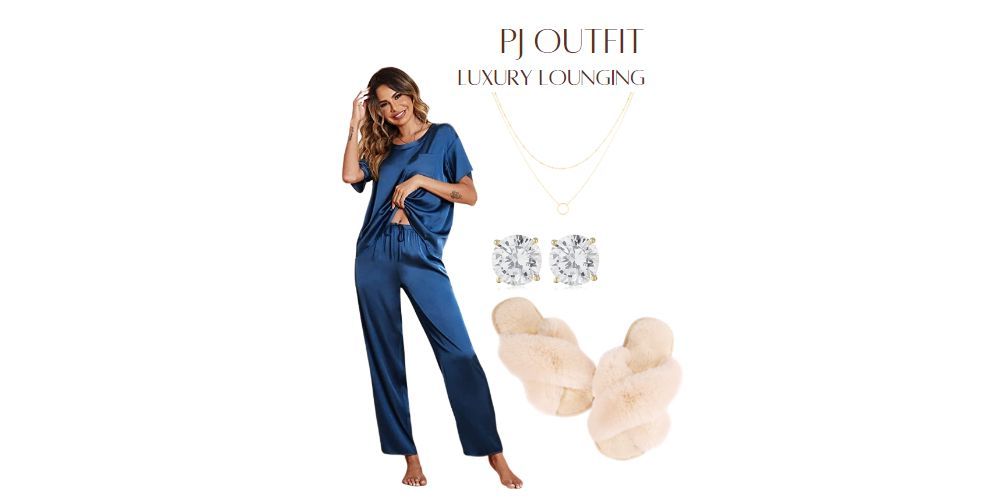 This PJ outfit is for those who enjoy a little luxury, even on a lazy day. These satin PJs feel indulgent against the skin, and the addition of fluffy, plush slippers adds an extra level of comfort. Add some sparkle with delicate jewelry like a dainty necklace and small stud earrings. Even on a lazy day, you'll feel like a queen.
💡Top Tip: Always go for quality. Satin PJs and plush slippers aren't just about luxury, they're also about treating yourself with comfort and care.
⬇️13. Wide-Legged Pants Outfit: The Allure of Easy Elegance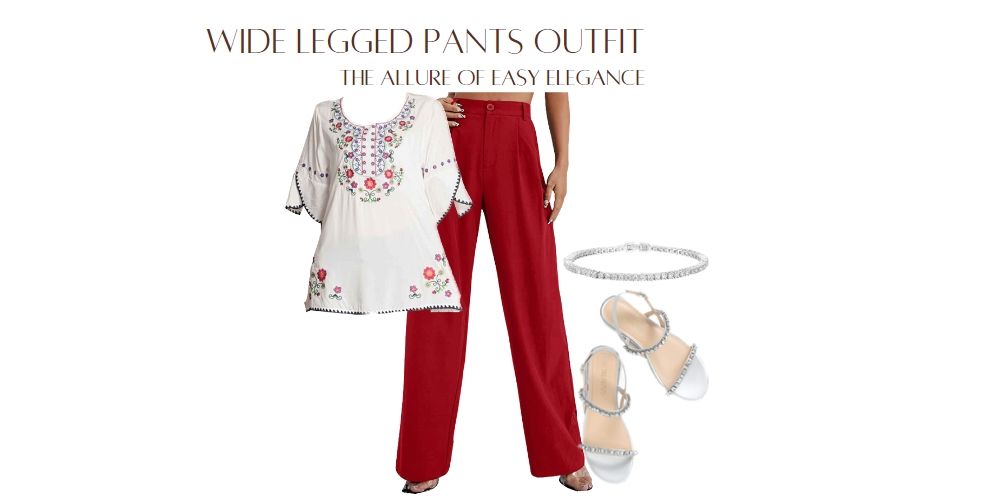 This wide legged pants outfit is the perfect blend of comfort and style. The loose fit of the pants is not only trendy but also a go-to option for anyone seeking comfy but cute outfits. Team them with a lightweight blouse for a super easy, breezy look. Slide into a pair of sandals, and accessorize with a statement belt and chunky bracelet to pull the look together. Ideal for a casual day out, this outfit shows how to dress comfy and cute.
💡Quick Tip: Remember, the allure of this outfit is in its easy elegance. A statement belt can cinch your waist and add that extra flair!
⬇️12. Flannel Shirt Outfit: Plaid Perfection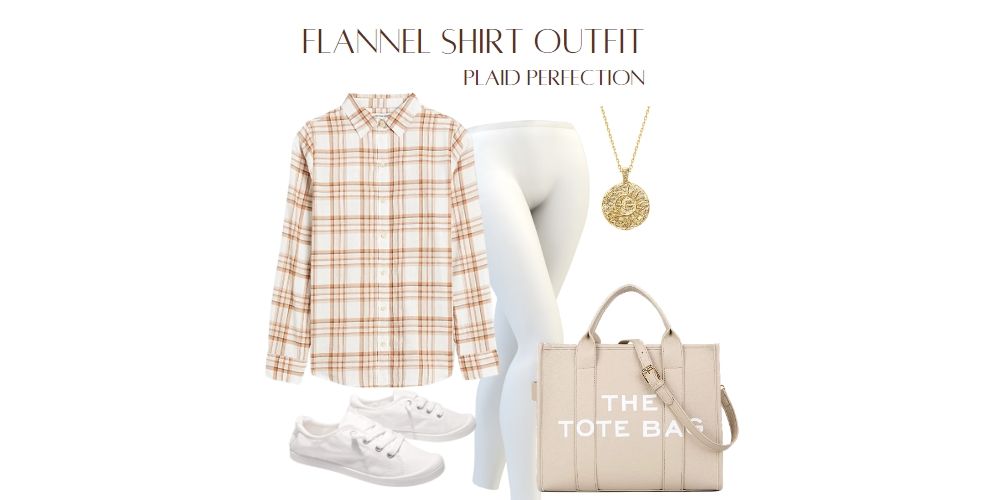 There's something about a flannel shirt that screams cozy comfort, making it a centerpiece of our flannel shirt outfit. Pair it with comfortable leggings or jeans, depending on your preference. A pair of sneakers add a touch of fall aesthetic to this comfy fall outfit. Top it off with a simple pendant and a leather tote for an outfit that's ready for anything from a coffee run to a lazy afternoon at home.
💡Catchy Tip: Complement the fall aesthetic of your flannel shirt with a leather tote. It's not just practical, it's also very much in style!
⬇️11. Loose Top Outfit: Casual Sophistication Simplified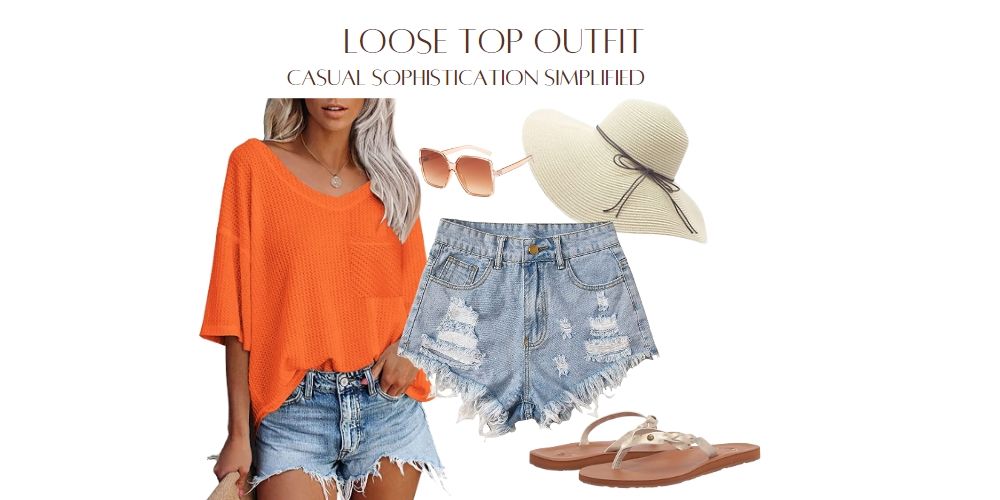 Our loose top outfit is a masterclass in balancing comfort and style. Pair a flowy top with denim shorts for an outfit that's ready for anything. Complement this look with comfortable flip flops, making it a perfect comfy summer outfit. Add a touch of style with a floppy hat and oversized sunglasses, perfect for a sunny day out or a lazy day at home.
💡Expert Tip: An oversized hat and sunglasses are not only practical for a sunny day out, they also add a dash of sophistication to your outfit.
⬇️10. Cardigan Outfit: Snuggly Warmth, Undeniable Style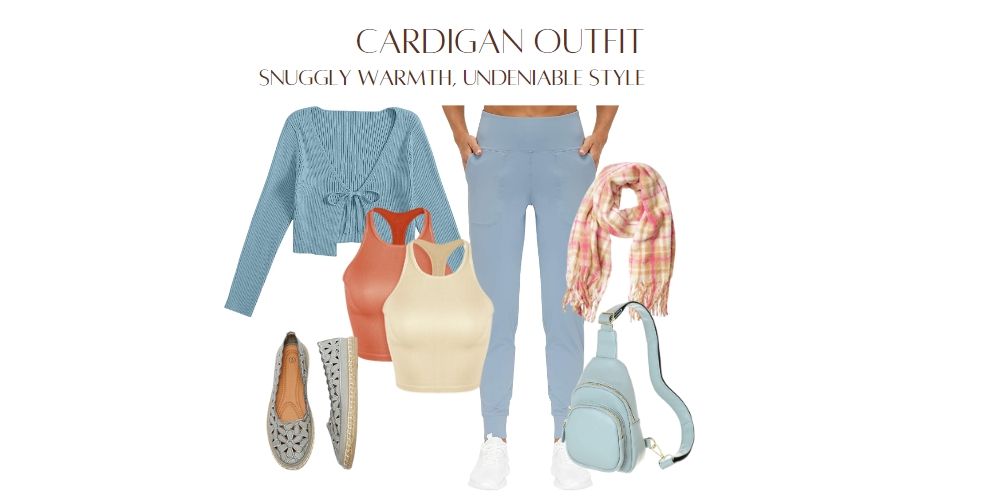 Our cardigan outfit showcases a perfect lazy outfit for cooler days. A cardigan worn over a basic crop top, paired with comfy leggings creates an outfit that's both comfy and cute. A pair of loafers add a stylish touch to this cute comfy outfit. Accessorize with a simple scarf and a crossbody bag for a look that's ready for a relaxing day.
💡Pro Tip: Remember, a basic crop top is a versatile piece that can transition through the seasons with the right cardigan, turning it into a snuggly warm and stylish outfit.
⬇️9. Sporty Outfit: Your Go-to Activewear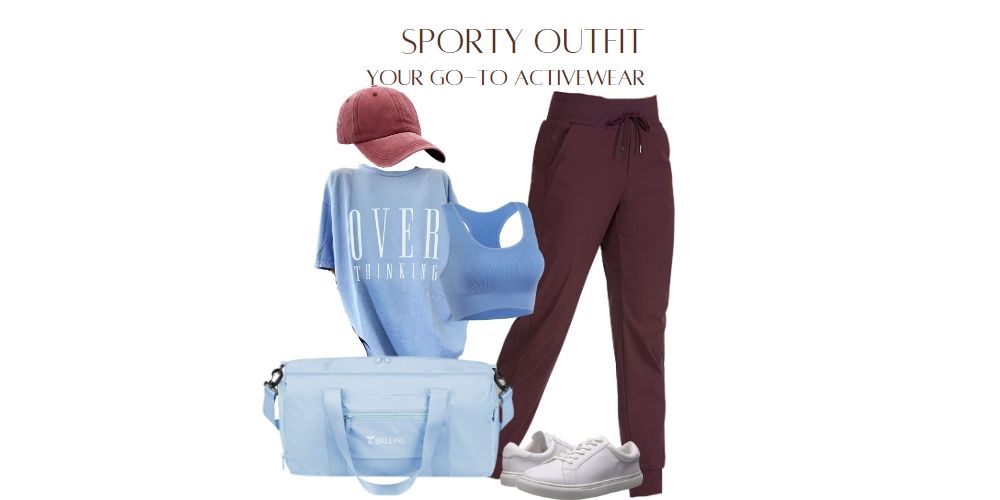 Our sporty outfit is all about showing off that lazy style with confidence. Pair a sports bra with a pair of joggers, and layer it with an oversized t-shirt for a relaxed but trendy look. Slip into a pair of comfy sneakers to complete this comfy lazy day outfit. A baseball cap and a gym bag are the perfect accessories for this sporty chic look.
💡Top Tip: Don't shy away from showcasing your sporty style. An oversized t-shirt layered over a sports bra gives a relaxed yet trendy look.
⬇️8. Oversized T-Shirt Outfit: The New Classic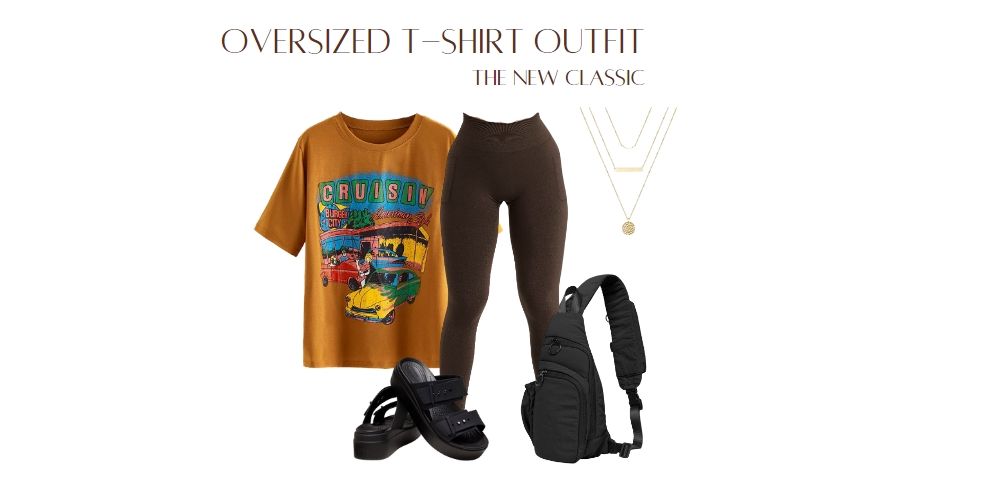 This oversized T-Shirt outfit is a testament to how a simple T-shirt can be a game-changer in your wardrobe. Pair it with leggings or bike shorts, depending on the weather, for an effortless cute lazy day outfit. Comfy Crocs complement this outfit perfectly. A simple pendant necklace and a casual sling bag complete this comfy, casual look.
💡Catchy Tip: A casual sling bag is more than just a handy accessory; it can balance your oversized T-shirt and complete your casual look.
⬇️7. Cropped Hoodie Outfit: Urban Cool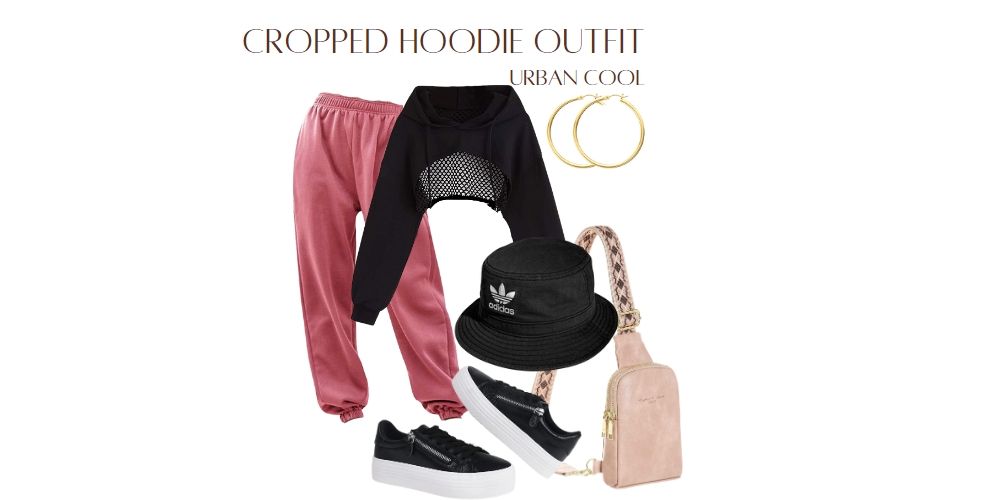 For those who lean towards lazy baddie outfits, this cropped hoodie outfit is perfect. The hoodie is paired with high-waisted joggers, showcasing a comfy but cute style. Complete the look with a pair of trendy sneakers. Accessorize with hoop earrings, a bucket hat, and a fanny pack for an urban, cool look that's perfect for a casual day out.
💡Expert Tip: A cropped hoodie paired with high-waisted joggers can give the illusion of a longer leg line. Balance the proportions and make your outfit look even more stylish!
⬇️6. Casual Sporty Outfit: Relaxed Elegance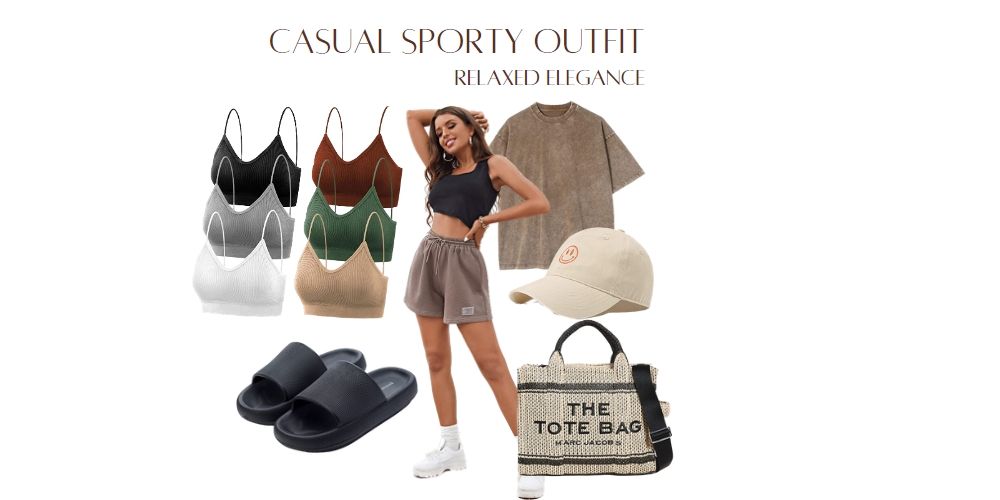 This casual sporty outfit takes a relaxed approach to the athleisure trend. Start with a sports bra under an oversized t-shirt, paired with a comfortable pair of hiking shorts for a laid-back but stylish look. Slip-on sandals add an easygoing vibe to this comfy outfit. Round off this look with a baseball cap and a tote bag for a style that's just as good for running errands as it is for lounging at home.
💡Quick Tip: The key to mastering the casual sporty look is to mix comfort with style. A baseball cap and tote bag can add a sporty vibe without compromising on comfort or style.
⬇️5. Cute Lazy Outfit: Comfort in Casualness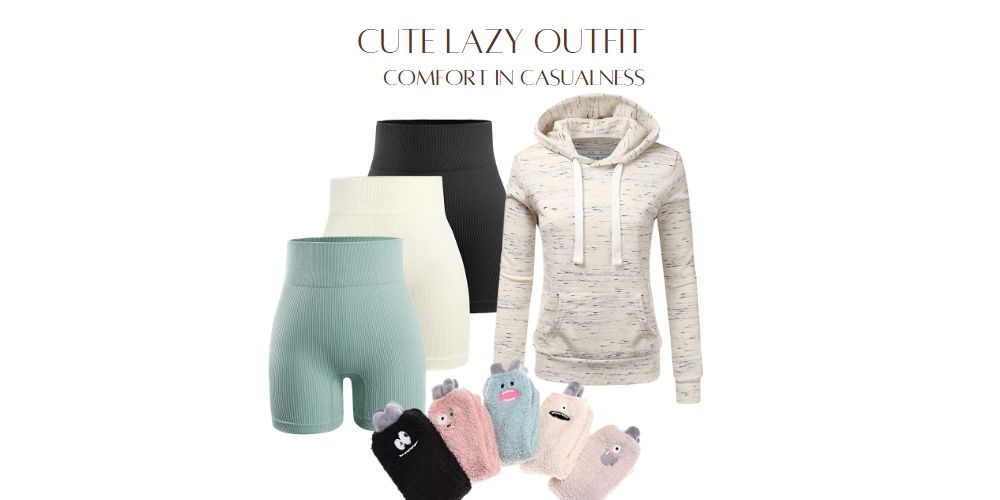 The ultimate lazy day outfit idea starts with your favorite pair of biker shorts, a staple for any comfy outfit. To top off the shorts, go for a pullover hoodie that provides both comfort and a casual style. Your feet will love slipping into a pair of thick, plush thick socks, perfect for a cozy day indoors. Finally, pull your hair up into a relaxed, messy bun to round out this cute and comfy outfit.
💡Pro Tip: A pullover hoodie and biker shorts are not only comfortable but also effortlessly stylish. But remember, the right footwear matters! Plush thick socks can boost the comfy factor of your outfit.
⬇️4. College Outfit: Scholastic Style, Simplified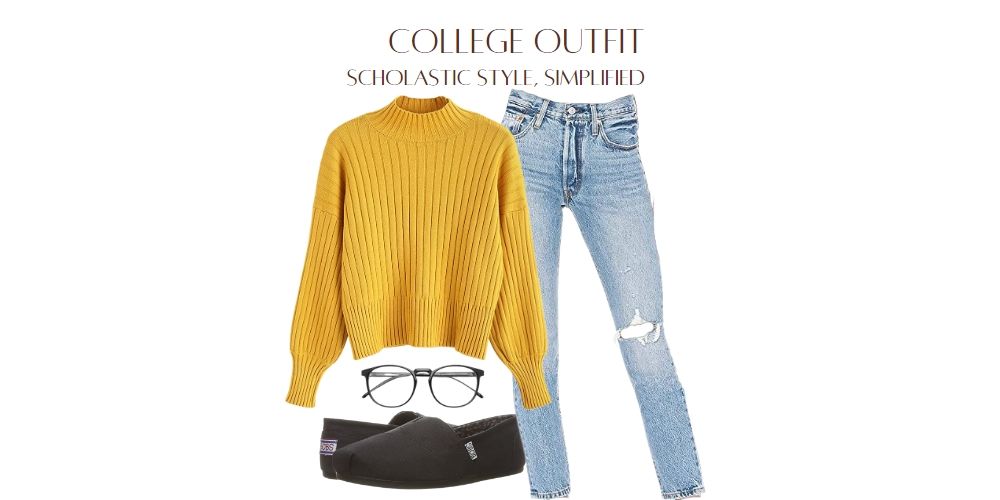 A soft oversized sweater paired with form-fitting skinny jeans creates the ideal balance between comfort and style, making it great college outfit ideas. The sweater offers warmth and comfort while the jeans add a touch of classic sophistication. Complete this look with a pair of versatile flat shoes, suitable for those long walks across the college campus. Add a pair of trendy eyewear to enhance the academic vibe and make this outfit truly shine.
💡Top Tip: Versatile flat shoes are your best friend when it comes to college outfits. They're perfect for long walks across campus and they also match with almost everything!
⬇️3. Faux Leather Leggings Outfit: Effortless Elegance for Everyday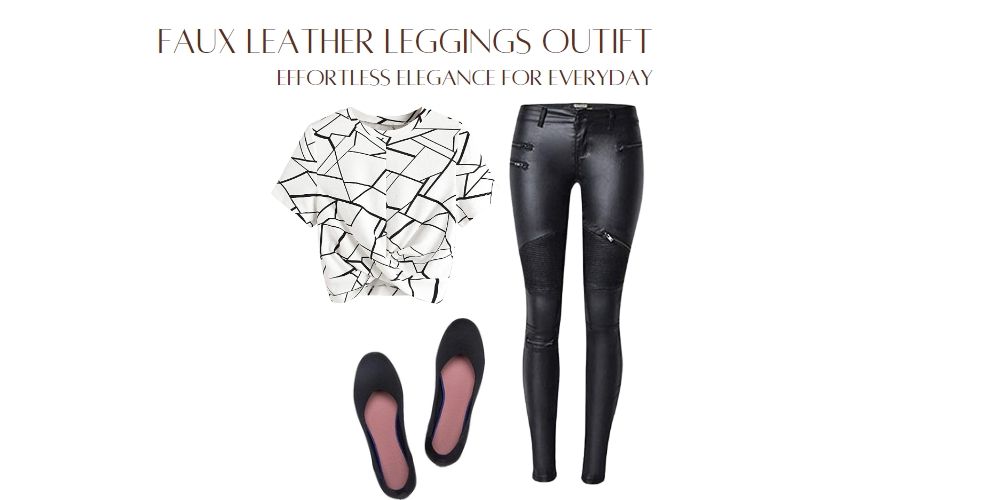 Faux leather leggings add a touch of edginess to any outfit, and when paired with your favorite t-shirt, it's the ultimate ensemble for lazy girls. This pairing is not only stylish but also comfortable, giving you the best of both worlds. Slip into a pair of flat shoes that complement your leggings, adding simplicity and comfort to your look. This outfit is perfect for those laid-back days where comfort is key, but you still want to look put together.
💡Expert Tip: When you're opting for faux leather leggings, keep the rest of your outfit simple to let the leggings be the focal point of your look.
⬇️2. Casual Denim Shorts Outfit: Cool in Classic Cuts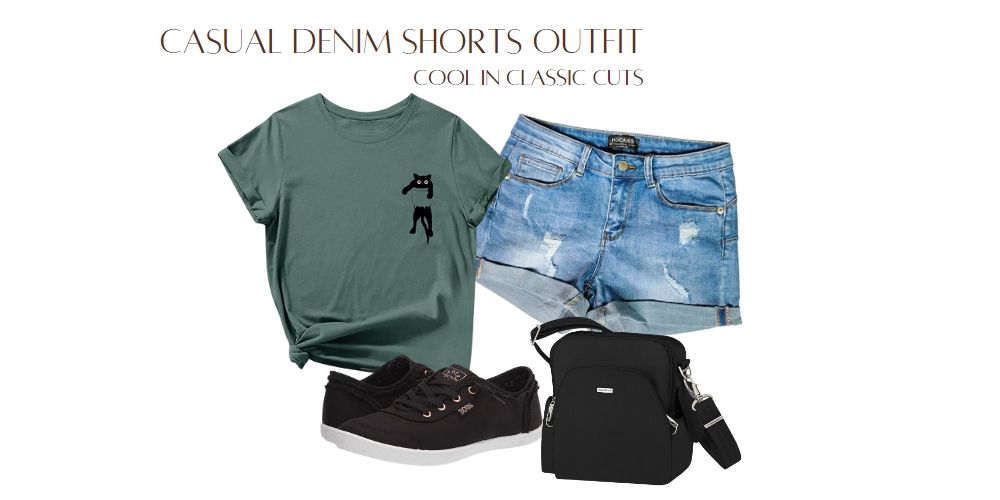 Denim shorts are a summer essential and when paired with a graphic tee, they make for a youthful and fun outfit idea. The shorts provide a cool relief for those hot lazy summer days while the graphic tee adds a pop of personality to the outfit. Complete this look with a pair of comfortable sneakers, and a sporty clutch bag, ideal for a day of errands or just hanging out with friends. This combination is the embodiment of a casual, carefree style.
💡Catchy Tip: A graphic tee paired with denim shorts is a classic combo. To add a twist, opt for a sporty clutch bag that will not only keep your essentials handy but also add a dash of cool to your outfit.
⬇️1. Best Friend's Brunch: Casual Chic for Charming Company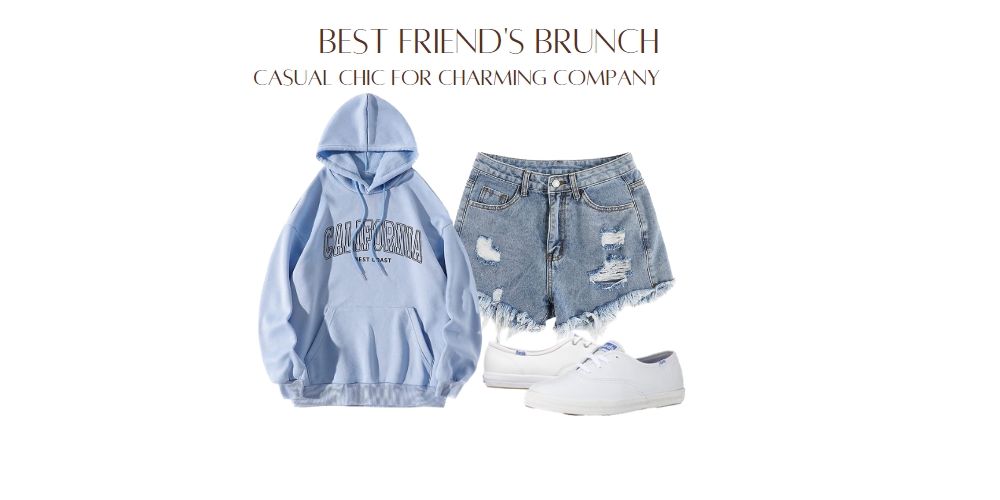 For a fun and casual day out, pair your denim shorts with your favorite graphic tee. Throw on a trendy oversized hoodie to add a layer of comfort and style to the outfit. Slip into a comfortable pair of sneakers and grab your best friend for a day of casual dining and laughter. This outfit is not only comfortable and stylish, but it also exudes a youthful energy that's perfect for a casual day out.
💡Pro Tip: For a day out with friends, comfort is key! A trendy oversized hoodie adds an extra layer of warmth and style to your outfit. Pair it with comfy sneakers, and you're ready to enjoy your day out in comfort and style.
Final Thoughts
We've navigated the chic world of lazy day outfits, proving that comfort and style can indeed share the same closet space. Be it for an afternoon of errands, a chilled-out happy hour, or just a typical day in your world, these outfits are here to ensure you're looking fab without sacrificing an ounce of coziness. Hey, life's too short for uncomfortable clothes, right?
So, when you're assembling your running errand outfits, getting ready for that casual happy hour, or just picking out your daily outfits, remember these tips! Take these ideas, mix them up, add your personal twist, and voila - comfort and style, hand in hand!
Stay tuned for more from our Dive Into Fashion series, where we continue to debunk the myth that fashion is pain. After all, what's better than looking great and feeling even better? Happy dressing, folks!
Other Posts You May Like
💡
Dive Into Fashion Outfits
Explore our exclusive articles featuring
Boho Outfit Ideas
,
Vacation Outfits
,
Festival Outfits
,
and
Summer Outfits with Hats
.
Delve into our
Denim Shorts Outfits
,
Black and White Outfits
, Bodysuits Outfits,
and
Pink Outfit Ideas
. Experience the charm of our
Tube Top Outfits
, Crop Top Outfits,
Sundress Outfit Ideas
,
Resort Wear
,
Beach Wear
,
and
Jury Duty Outfits.
Start your style journey now
Comments