This post may contain affiliate links, please see our privacy policy for details.
Hello, my fashionable friends,
Picture this: a pair of trousers that is as versatile as your favorite pair of jeans, as comfortable as your cherished loungewear, and as chic as your best little black dress. Intriguing, isn't it? Today, we're spotlighting such a sartorial gem – the black linen pants. A bona fide style savior that deserves a front-row spot in your wardrobe.  
Do you remember our recent post where we reveled in the laid-back allure of various styles of linen pants, perfect for those glorious sun-soaked days?
Do you recall our latest post where we revealed how to style linen pants during sun-soaked days? Or the time we spun tales of sartorial elegance with white linen pants post? We are back, this time delving into the mysterious allure of black linen pants.
The narrative of outfits with black linen pants is as riveting as it is versatile. Picture a fabric that's as breezy as a summer whisper yet sturdy enough to stand the test of time. Visualize a color as adaptable as the chameleon, at home in any style scenario. That's what you get with black linen pants.
Stay with us as we craft this enchanting style story together, weaving in the threads of comfort, adaptability, and the undeniable chicness that only black linen can provide. From bustling workdays to laid-back weekends, from glamour-dipped evenings to everything in between, we've curated a style guide to fuel your fashion dreams.
So grab a cup of coffee, put your stylish thinking caps on, and join us on this journey into the irresistible world of the black linen pants outfit. Remember, fashion isn't just about following trends; it's about dancing to the rhythm of your personal style. Let's start this fascinating dance together, one fabulous outfit at a time!
Styling Black Linen Pants for Different Occasions
Fashion, in all its vivid colors and diverse textures, is about the stories we tell. Today, we'll journey through various scenarios, each with its unique charm, creating captivating narratives with our star character: the black linen pants.
The Casual Outfit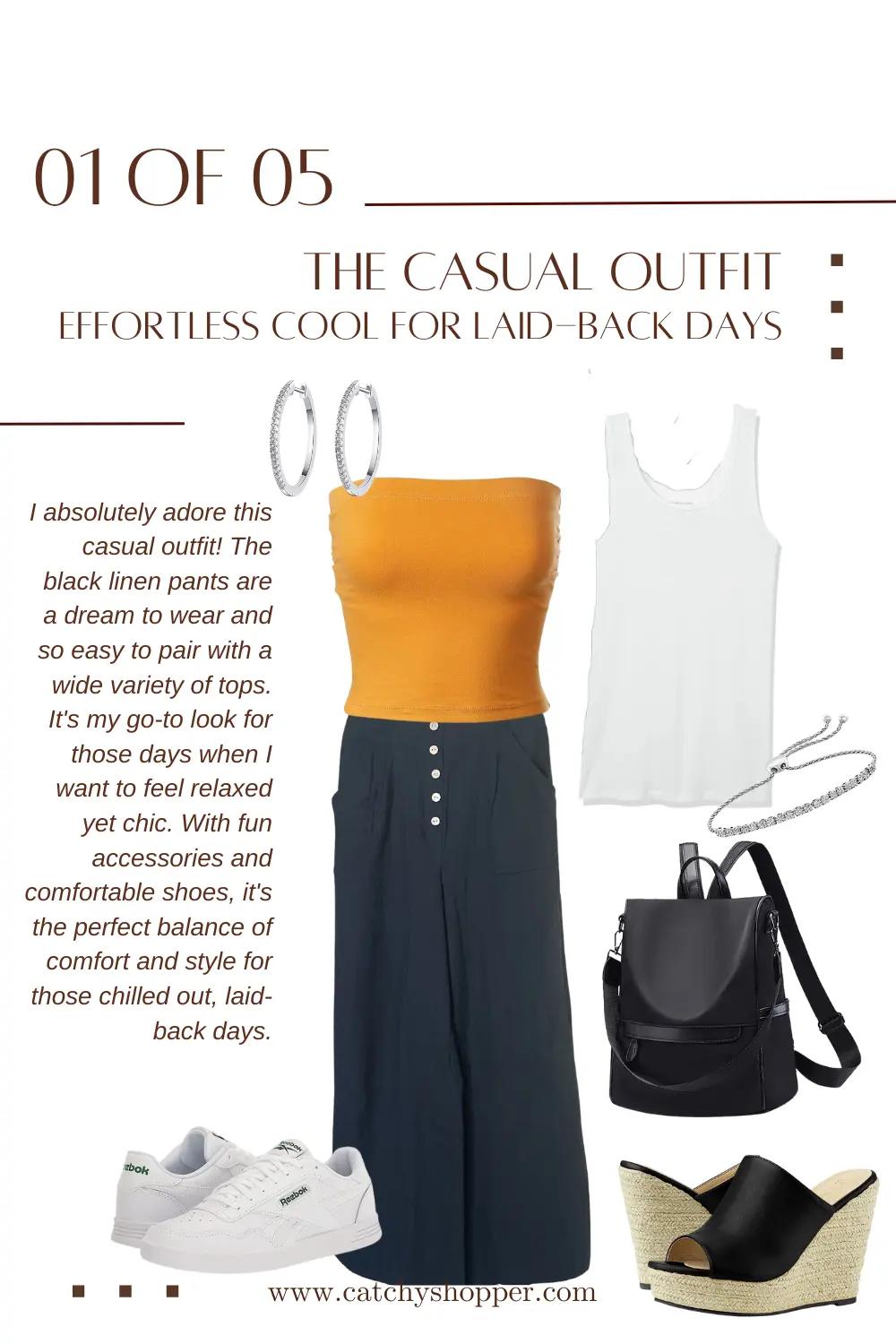 Think of a lazy Sunday brunch, or perhaps a carefree afternoon stroll in the park. You need comfort that doesn't compromise style. Pair your wide leg linen pants with a laid-back white tee for that timeless monochrome look. Or, for a pop of color, opt for a mustard yellow top that effortlessly elevates your outfit.
Slide your feet into comfy sneakers, heels, or wedges, and you're ready to conquer the day. Choose dainty gold hoop earrings and a few stacked bracelets to add that subtle shine. Round off your look with a casual tote bag or a backpack that keeps your essentials safe and your style on point.
The Work Outfit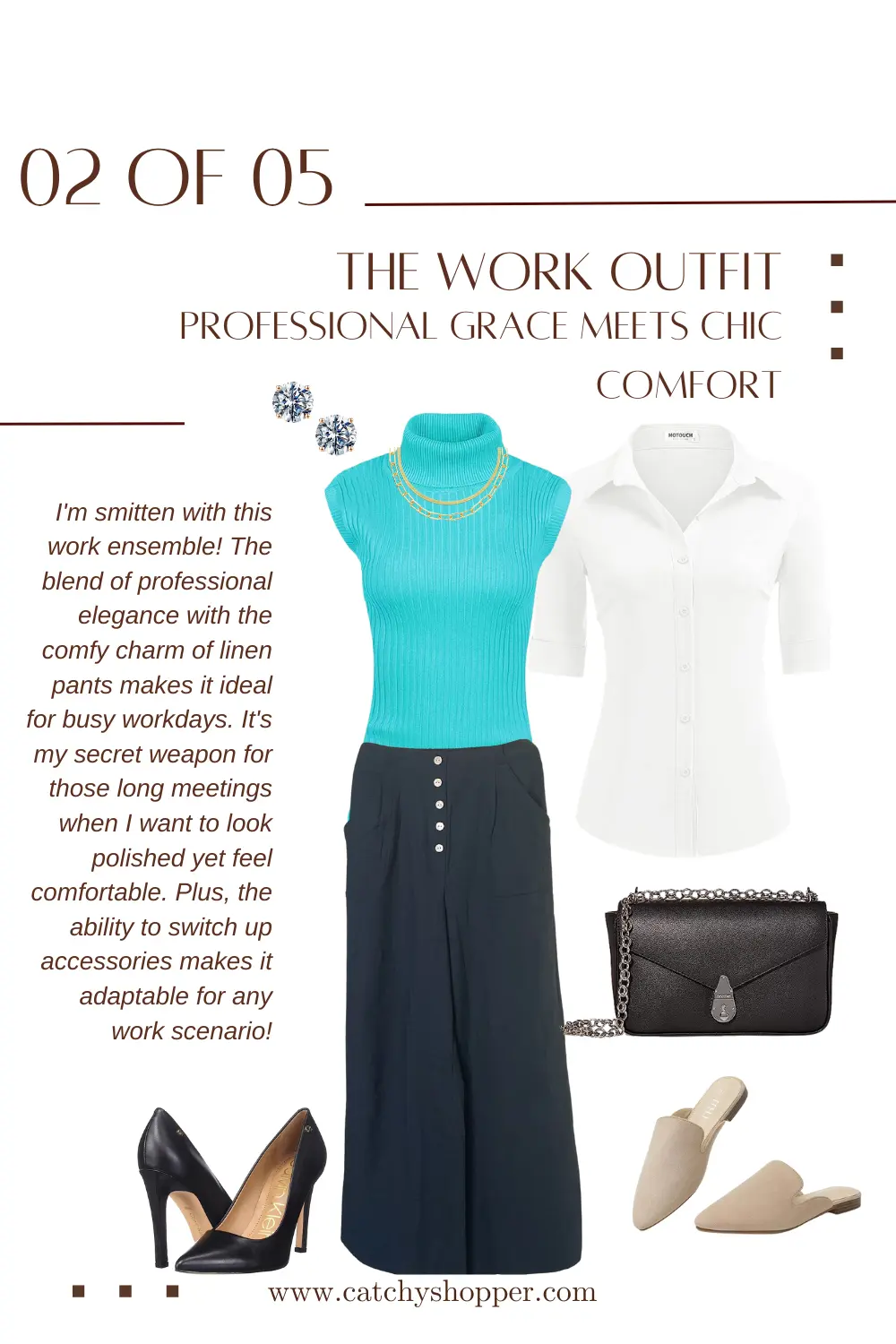 Transitioning to the workplace, your favorite linen pants can be a power player. Combine them with a button-down shirt or a sophisticated turtle neck top for a professional and polished look. Your choice of footwear can vary from classic black pumps to stylish loafers, depending on the mood of the day.
Opt for minimal silver jewelry - think thin chain necklaces or delicate stud earrings to keep it elegant and office-friendly. Complement this ensemble with a structured handbag in neutral tones - a fashion statement that spells efficiency.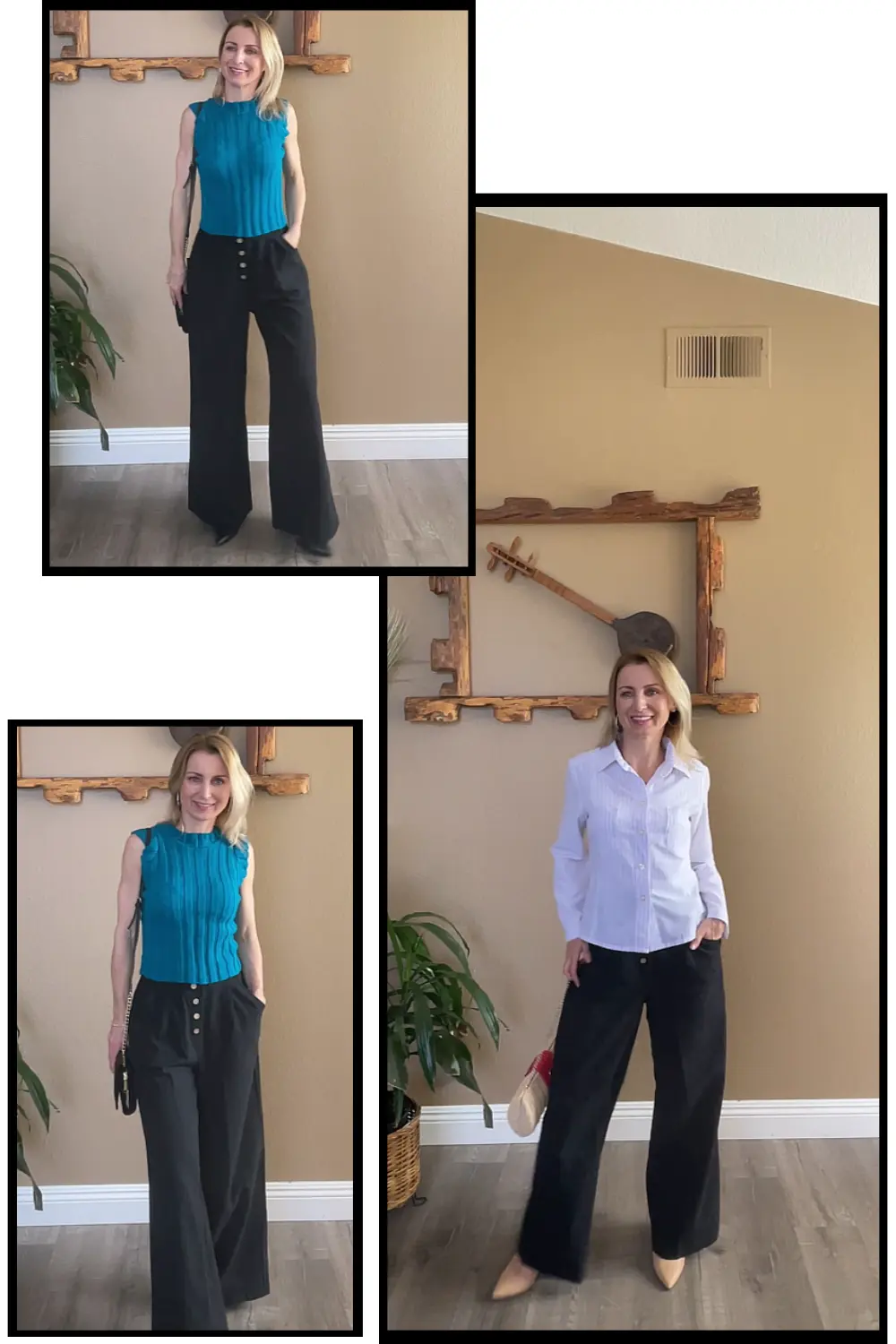 The Evening Outfit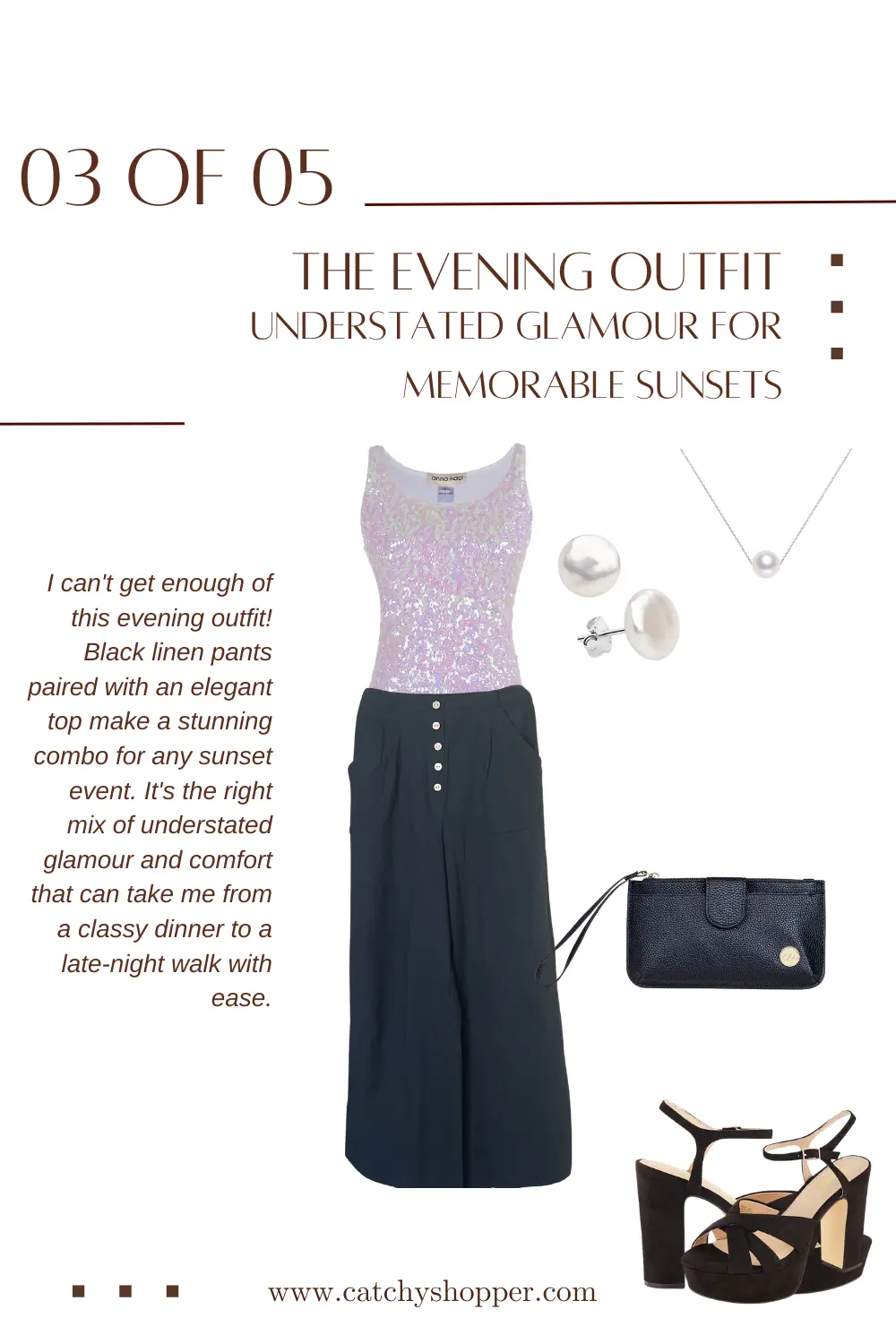 As the sun dips, don your linen trousers with a sequined top or a satin blouse in jewel tones for an instant dose of glamour. Don't forget your heels – strappy heels or classy mules, both work wonders in adding height and elegance.
Unleash your creativity with accessories - a pair of statement pearl earrings and a necklace can add just the right amount of sparkle. To carry your essentials, choose a stylish clutch that complements your ensemble.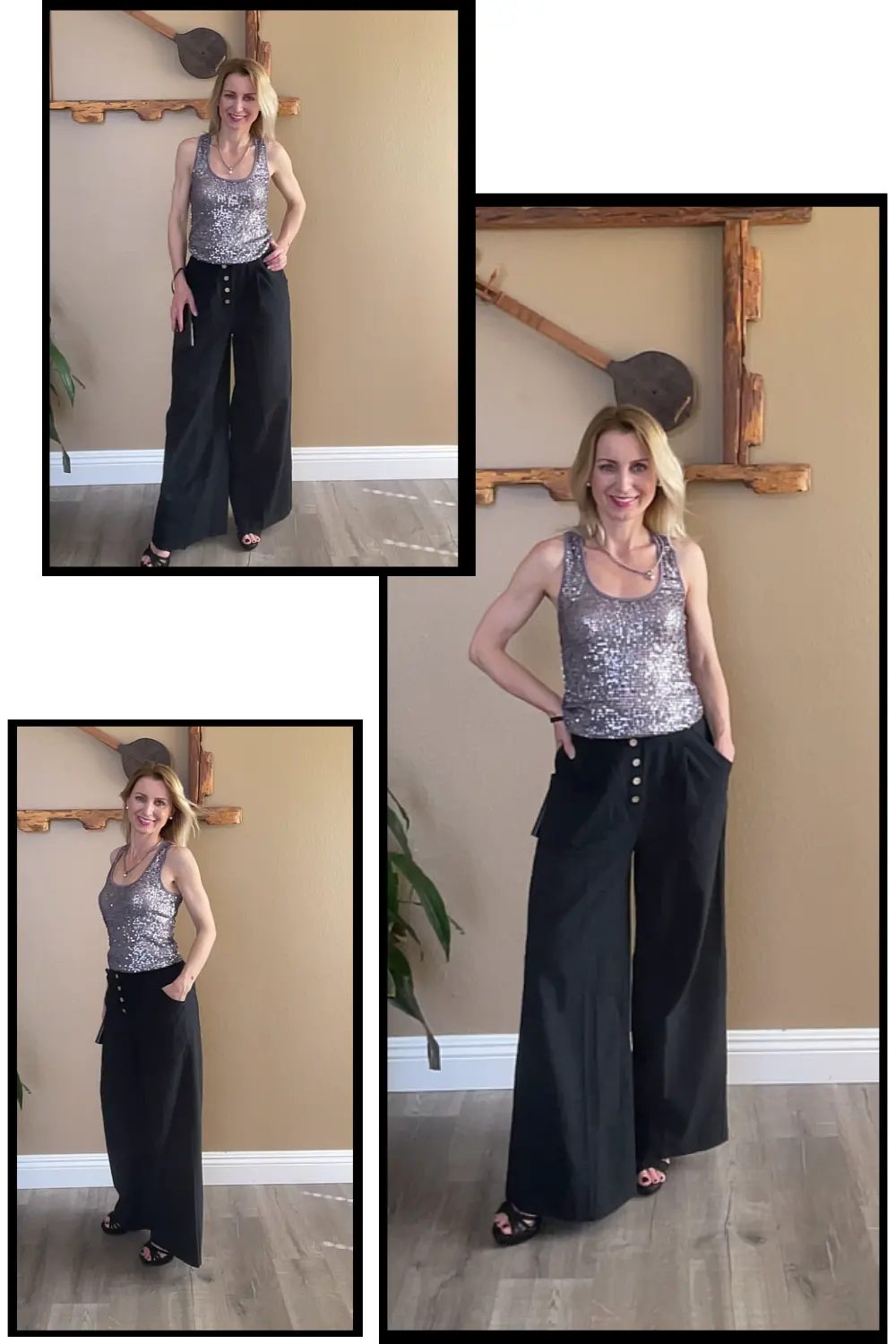 The Party Outfit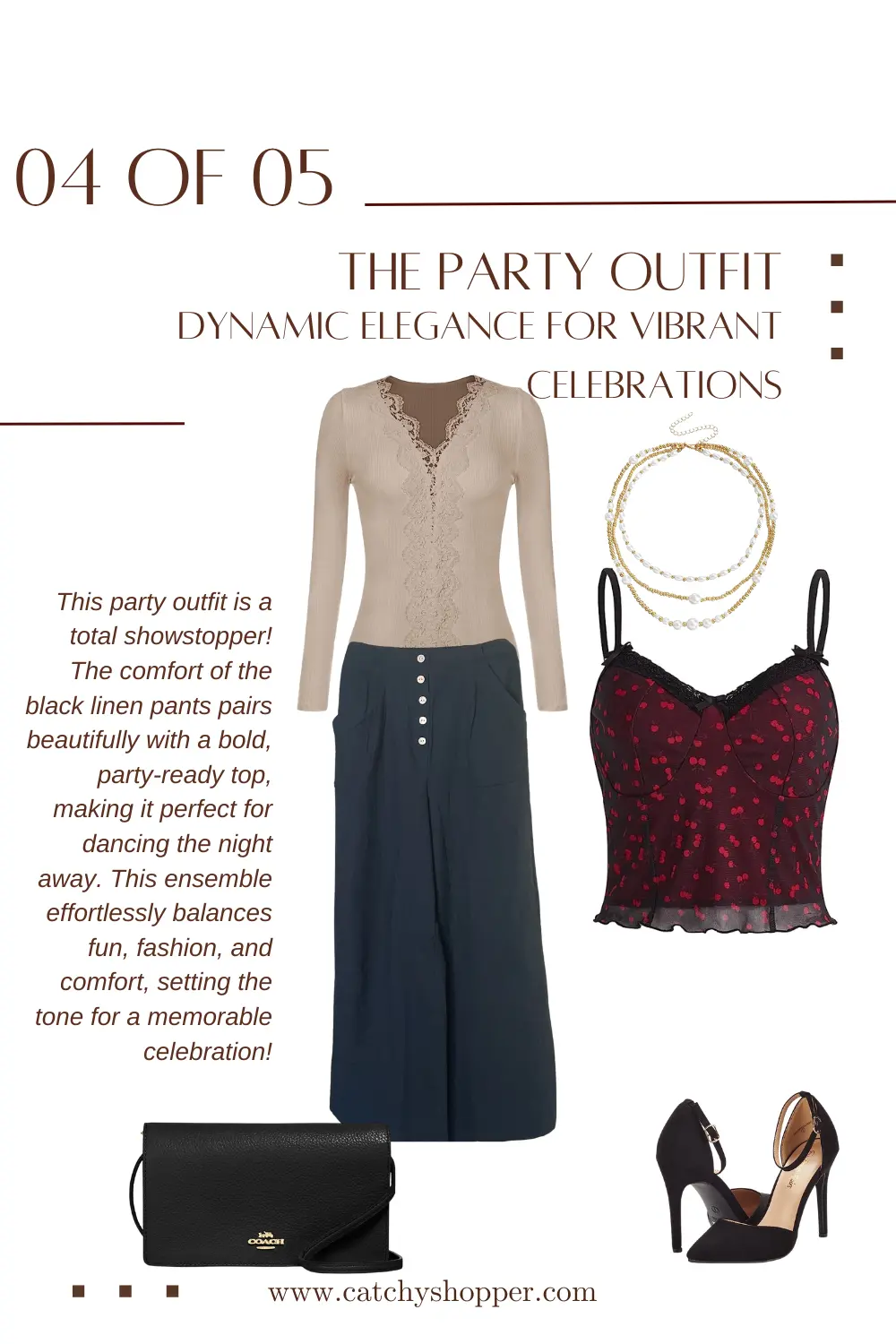 When it's time to party, your black linen pants can help you stand out in the crowd. Pair them with a shimmering bodysuit or a stylish crop top for that instant wow factor. Your choice of footwear can range from glittery boots to bold pumps.
Accessorize with attention-grabbing pieces - layered necklaces or bold, oversized rings. A chic cross-body bag or a trendy mini handbag will complete your party-ready look.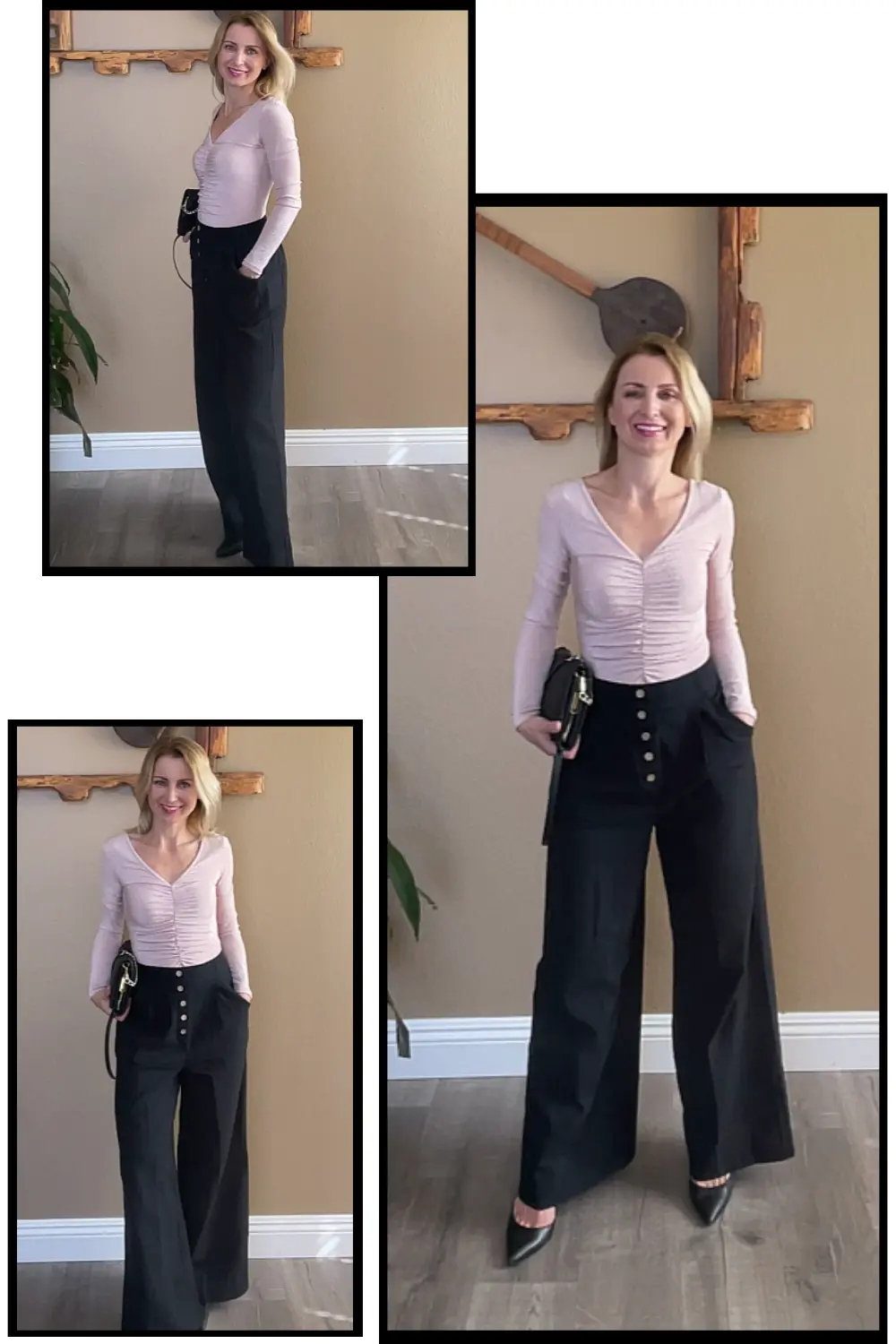 The Beach Outfit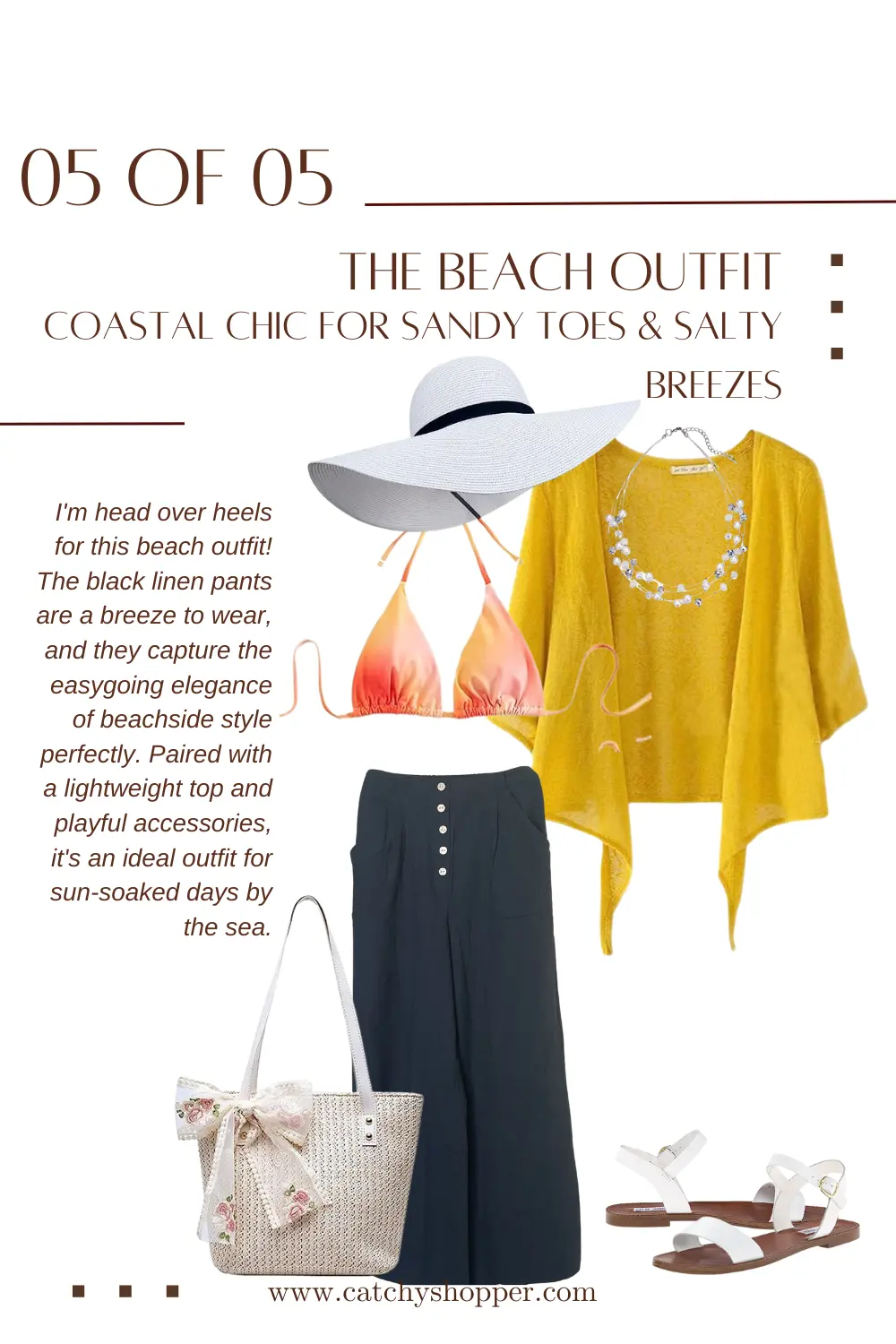 For a day by the sea, your black linen pants will work as a breezy, chic cover-up. Pair them with a bright bikini top or a bold color puff sleeve blouse for that beach-perfect look. Footwear should be all about comfort - think cute flip-flops or sandals.
Accessorize with a straw hat and matching bag for that vacation vibe. Choose fun, playful jewelry - think shell or pearl necklaces and anklets.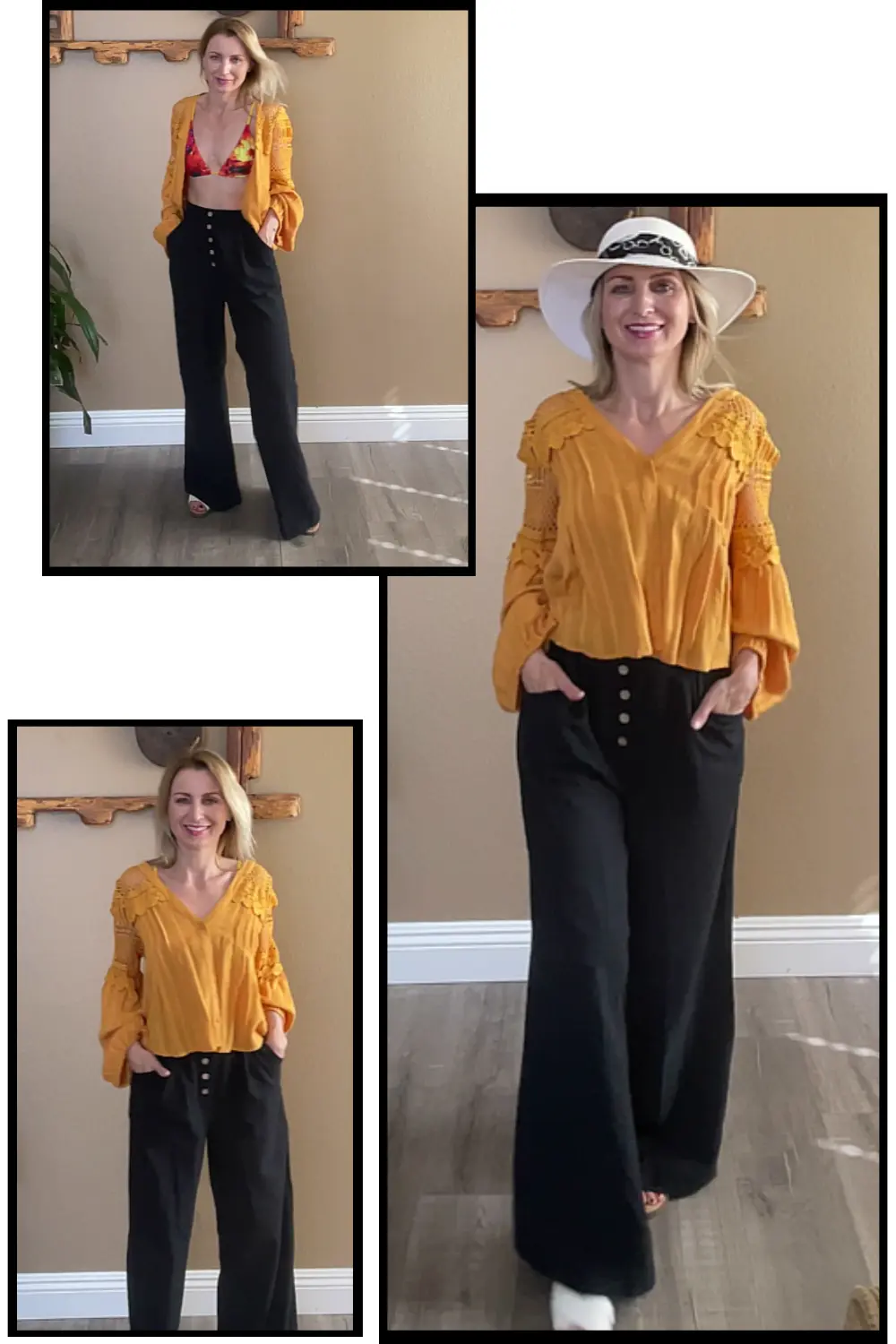 In every setting, black linen pants can make you look your best. Experiment with colors, textures, and accessories to create your own unique narratives. So, what are you waiting for? Get started and let your style do the talking!
Pairing Black Linen Pants  
In the captivating symphony of style, every color, texture, and pattern plays an essential note. When you master the art of mix and match, the humble black linen pants transform into a catalyst for your fashion experiments. Let's explore this exciting terrain together!
Dancing with Neutral Colors
Imagine a calm, serene sunset. This is the essence of a neutral color palette. Pair your black linen pants with tops in shades of beige, cream, or taupe for a look that exudes understated elegance. Try a cream silk blouse or a beige chunky knit sweater depending on the season.
Accessorize with gold or silver jewelry - a delicate pendant or an arm cuff can work beautifully. A structured tote bag and nude heels will complete your look, radiating a quiet sophistication.
Playing with Bright Colors
Now, visualize a vibrant, joyous carnival - this is what a bright color palette brings to your outfit. Don't shy away from pairing your black linen pants with a bright, electric blue top or a hot pink shirt. The contrast can create an impact that's both striking and fashionable.
Consider accessories that are equally bold - think geometrically shaped earrings or multi-colored bead necklaces. Complete your look with a colorful handbag and matching shoes for a style statement that's unmissable.
Experimenting with Textures
In the world of fashion, texture is the spice that adds a unique flavor to your outfit. Pair your black linen pants with a sequin top for a night out or a chunky knit for a cozy feel. Layer with a leather jacket or a denim shirt for a contrast that's intriguing and stylish.
Your choice of accessories can further accentuate this play of textures. Opt for hammered metal jewelry or a beaded handbag. Choose shoes that complement the overall look - think velvet boots or glossy patent pumps.
Introducing Patterns
Patterns are like the climax of a gripping novel - they add drama and intrigue to your summer outfit. Combine your black linen pants with a leopard print top for a wild, adventurous look, or a floral blouse for a softer, more romantic vibe.
Play around with accessories that complement the patterns. Opt for minimalist jewelry so the patterns can take center stage. Your choice of bag and shoes should be subtle, not competing with the patterns, but beautifully complementing them.
Fashion is a never-ending journey of self-discovery, and your black linen pants are an amazing travel companion. Embrace the colors, textures, and patterns that resonate with your style story, and remember - you're the author of this enthralling tale!
Final Thoughts
Ah, what a journey we've just embarked on, my fashion-forward friends! We've been on a star-studded style adventure, uncovering the limitless ways to style not just our black linen pants, but also exploring the charm of striped linen pants and the elegance of white linen pants outfit. We've brushed shoulders with chic neutrals, flirted with eye-catching hues, toyed with a myriad of tantalizing textures, and infused our look with a burst of energy through vivid patterns.
Our constant companions on this voyage? Undoubtedly, it's our versatile linen pants - black, striped, or white. They've proven to be true fashion chameleons, adapting to each new setting with the elegance of a swan, showcasing that style is less about blindly chasing trends and more about composing a symphony that echoes your unique rhythm.
Now, it's your time to take the spotlight! Unleash your creativity with black, striped, or white linen pants. Don't just follow the crowd - delve into new pairings, try different textures, and experiment with patterns. After all, the world of fashion is your playground, meant for self-expression and joy.
I'm excited to see your individual style narratives! How would you style these versatile linen pants? Got a go-to color combination or a pattern mix that you can't wait to try? Share your ideas, thoughts, and pictures in the comments below.
Did you find our linen pants style journey insightful? Then, why not share this excitement with your fashion-loving tribe? Follow, like, and share this post to cultivate a rich and vibrant style community.
Never want to miss our future style adventures? Don't forget to subscribe to our blog. With each style tip landing in your inbox, you'll find yourself eagerly awaiting the next one!
Thank you for being part of this style expedition. Until our next fashionable escapade, keep that sparkle going, continue to explore, and remember - your style is your unique narrative. Make it enchantingly memorable!
Other Posts You May Like
💡
Beach and Resort Wear
Prepare for your next holiday with our Resort Wear and Beach Wear suggestions. Also, make a splash with our Pool Outfits that are both stylish and comfortable.
💡
Special Occasion Outfit
Dress up for the special days with our 4th of July Outfit, or check out our Jury Duty Outfits for ideas on what to wear for civic duties. Start your style journey now!
Comments